Sweat and savoury, and completely meat free. The twist? Pineapple! Let's get into how to up your rice noodle salad game with this honey tofu recipe: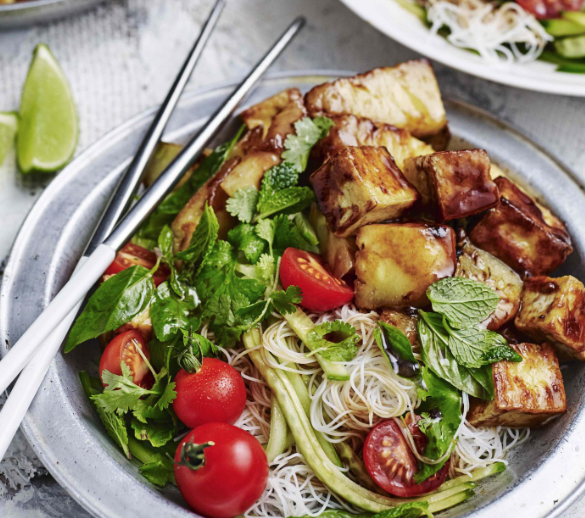 Ingredients
1 tbsp vegetable oil

500 g firm tofu, cut into 1cm cubes

3 cloves garlic, crushed

1⁄3 cup tamarind paste

2 tbsp kecap manis

1 tbsp honey

1⁄2 small pineapple, cut into 2cm pieces

lime wedges, to serve

RICE NOODLE SALAD

100 g rice vermicelli

2 lebanese cucumbers, julienned (see tips)

240 g cherry truss tomatoes, some halved

1⁄2 cup fresh mint leaves

1⁄2 cup fresh coriander leaves

1⁄2 cup fresh thai basil leaves

2 tbsp lime juice

1 tbsp soy sauce

2 tsp olive oil
Instructions
FOR the rice noodle salad, place noodles in a large bowl with enough boiling water to cover; stand for 2 minutes. Drain well.
HEAT a wok over high heat, then add oil; stir-fry tofu and garlic for 3 minutes on each side or until golden.
ADD tamarind, kecap manis, honey, pineapple and 1 tbsp of water; stir-fry until heated through.
RETURN noodles to bowl with cucumber, tomato and herbs.
COMBINE lime juice, soy sauce and oil in a small bowl.
ADD dressing to salad; toss gently to combine. Season to taste.
SERVE stir-fry with noodle salad and lime wedges.
TEAM TIP: Use a julienne peeler, mandoline or vegetable slicer to cut the cucumber into matchstick-like strands. A julienne peeler looks like a wide-bladed vegetable peeler with a serrated blade; they are available from most kitchen stores.