We all love a meal at tashas—it's never been a secret. So, in the spirit of two of our favourite things; the festive season and tashas, we're sharing a bite from the delicious notes of tashas' Christmas menu archives.
Every father leaves a legacy. Some fathers leave behind stamp collections, some leave behind vintage cars; some might even leave an old watch. In my family, fathers leave recipes. My great-grandfather was a fisherman, my grandfather was a baker and my father was a chef, but it was my brother, an interior designer, who perfected the recipe for our seafood pasta. It's a dig-in-and-get-dirty kind of dish.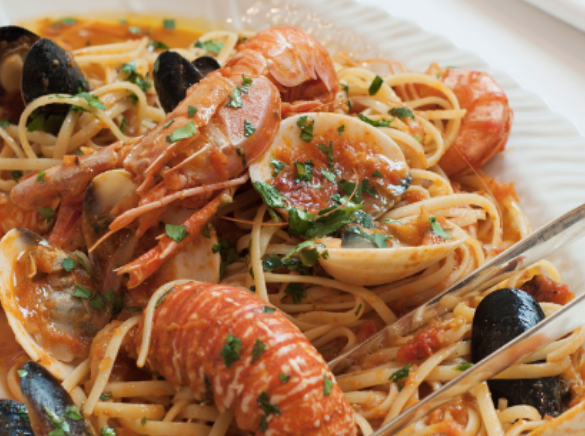 Ingredients
NGREDIENTS

Oven-roasted tomatoes

250 g cherry tomatoes

40 ml olive oil

Salt and pepper

1 sprig of rosemary

Seafood sauce

40 ml olive oil

50 g butter

1 finely chopped red onion

4 finely chopped garlic cloves

8 ripe tomatoes, grated

Salt and pepper

400 ml Napolitana sauce (page 106)

24 black tiger prawns, butterflied and cleaned

4 langoustines

12 mussels, cleaned

16 clams, cleaned

250 ml white wine

Large handful flat leaf parsley, chopped

500 g uncooked linguine

60 g butter to burn

Olive oil
Instructions
1. Pre-heat the oven to 200°C. Roast the cherry tomatoes on a baking tray, drizzled with the olive oil, seasoned with salt and pepper and sprinkled with rosemary. Roast until the tomato skins are wrinkled.
2. Heat the olive oil and butter in a large pan and sauté the onion until golden brown. Add the roasted tomatoes, discarding the rosemary, and squash them gently to release the juices. Add the garlic and cook for 2 – 3 minutes.
3. Stir in the freshly grated tomato and simmer for 5 minutes with the lid off. Taste and season with salt and pepper. Add the Napolitana sauce and bring to a boil. Carefully add the seafood, wine and half the chopped parsley. Make sure that the seafood is covered by the tomato sauce. Stir it gently and as little as possible or the seafood will disintegrate. Cover with a lid and cook on high heat for 5 minutes. Remove the lid, reduce the heat to medium and allow to simmer for another 20 minutes.
4. The sauce should not be too thick or too runny. You will know it is ready when the mussels and clams open up. Meanwhile, cook the pasta in a large pot of boiling salted water until al dente.
5. In a separate pan, burn 60 g of butter. The butter must melt at a high heat in the pan until it bubbles and turns golden. Drain the pasta, place it in a large bowl and pour the burnt butter over it. Then spoon the seafood sauce over the pasta. Garnish with the remaining parsley and a generous glug of olive oil.
Posted with permission from: tashas Café Classics.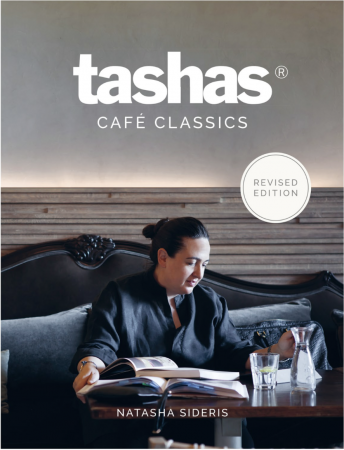 For more information, go to www.tashascafe.com