A spring take on a hearty veggie one-pot, harissa adds a rich smokiness!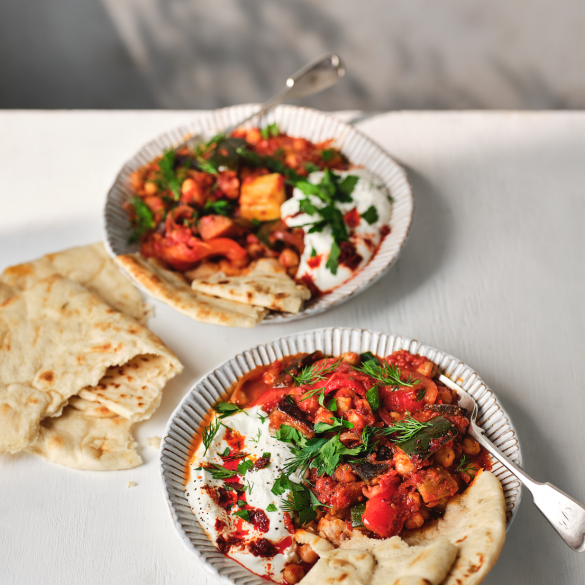 Ingredients
1 large brinjal, chopped

1 red pepper, sliced

2 tbsp olive oil

1 red onion, sliced

2 garlic cloves, crushed

2 large baby marrows, chopped

4 tbsp harissa

1 tbsp tomato purée

1 tsp cumin

2 × 400 g tins chickpeas

2 × 400 g tins chopped tomatoes

400 ml vegetable stock

Large bunch parsley or dill, chopped

Flatbreads, warmed to serve

Greek-style yoghurt or a vegan alternative to serve
Instructions
1 Heat the oven to 200oC Fan/ Gas 7. Scatter the brinjal and red pepper on a large baking tray and drizzle with 1tbsp oil. Roast for 15 mins.
2 Put the remaining oil into a large saucepan. Add the onion and cook over a medium heat for 5 mins. Add the garlic and marrows, and cook for a further 2 mins. Stir in the harissa, tomato purée and cumin. Once the veggies have roasted, add to the pan.
3 Pour in the chickpeas, stirring to coat. Stir in the chopped tomatoes and stock, and simmer for 30 mins until it thickens. Stir in half the parsley and serve with flatbreads, yoghurt and extra parsley.
ALSO SEE:
Feature Image: W&H