This spicy Asian inspired slaw is the perfect pack and go side dish fit for any picnic day and ready in just 25 minutes.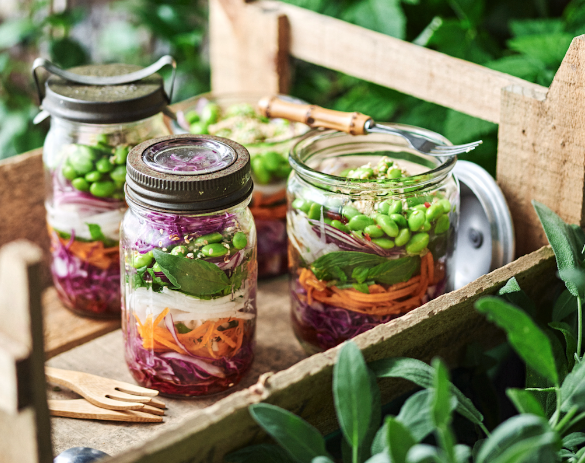 Ingredients
FUSION SLAW

¼ red cabbage, thinly sliced

1 carrot, peeled and cut into matchsticks

1 mango, peeled, cut into matchsticks

5 baby onions, peeled, sliced thinly

1 cup frozen shelled edamame beans, thawed

½ cup mint leaves

½ cup basil leaves

¼ cup white sesame seeds, toasted

CHILLI SESAME DRESSING

2 red chillies, seeded and finely chopped

⅓ cup lime juice

30 g brown sugar

1 tbsp sesame oil

1 tbsp olive oil
Instructions
FUSION SLAW 
PLACE cabbage in one layer on a baking tray, stand for 30 minutes to dry.
LAYER cabbage, carrot, mango, onions, beans, herbs and sesame seeds in a serving bowl or smaller glass jars.
CHILLI SESAME DRESSING 
PLACE ingredients in a jar and seal, shake well until sugar dissolves. Season and serve with salad.
TEAM TIP: Drying out the cabbage helps reduce colour bleeding. If you can't find edamame beans, frozen peas will do just as well.