SkinMiles opened its doors in November 2015 after well-known aesthetic doctor, Dr Alek Nikolic, realised that doctor-only recommended products with active ingredients were difficult to access. 
"Our patients had to make a special trip to stock up on products because they were only available at certain cosmetic doctor's practices." 
Dr Alek also realised that many people are not sure which products or ingredients to use for their skin types and skin concerns, so SkinMiles was created to allow for more convenient access to doctor recommended active ingredients, and to provide honest, reliable, and effective advice for a personalised skin regime. 
This is done through either a Face2Face skin assessment, live chat with one of their highly qualified skincare practitioners, by WhatsApp, email, or telephone. 
SkinMiles now stocks over 80 different leading skincare brands with over 2000 products to choose from, so are confident they can find the correct product for all skin concerns and budgets. Recently SkinMiles has added make-up along with skincare to cater for a more 'one stop beauty' online shop.  
Other than excellent product choices SkinMiles also offers their personalised bespoke packaging and greeting card, free delivery for all orders over R750.00, next day delivery to all major centres, free samples with all orders and a generous rewards programme.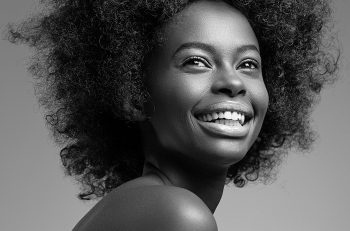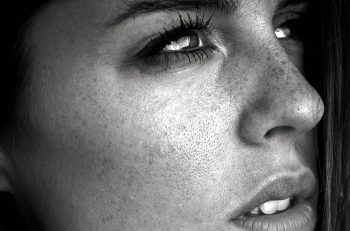 The best anti-ageing products to use in your 20's, 30's, 40's & 50's With Dr Alek Nikolic from SkinMiles.
As you age, lifestyle factors like exposure to the sun, smoking, and your favourite drinks can take their toll on your skin. This is over and above the fact that your body produces less and less collagen over time. Daunting, yes, but not hopeless. By incorporating simple preventative and corrective steps into your skincare regimen you can noticeably slow down the aging process.
In your 20's:
Wear sunscreen
From my experience, I have seen many spend a fortune on anti-ageing treatments, but unless you're using an SPF, none of these products will make a huge difference. The sun's rays have some incredibly damaging affects to the skin, and can cause unwanted wrinkles, sun spots and also break down collagen. Even though we all know this, many still forget the importance of sunscreen and skip it as part of their day-to-day routine.
A mineral sunscreen is a good option for day-to-day use. When choosing your product, look out for these two ingredients; titanium dioxide or zinc oxide. Not only do these naturally occurring minerals physically block the sun's radiation, but they also tend to be more gentle on the skin. A SPF of 30 or higher Is recommended and should be used irrespective of the weather.
The bottom line is that you need to protect your skin against ultraviolet rays when you're in your 20's and you should be wearing a mineral sunscreen daily. Make sure to apply it liberally every morning after moisturising, but before foundation.
Recommended products: HELIOCARE 360° Airgel – single or duo pack , HELIOCARE Advanced Gel SPF 50 – single or duo pack , LAMELLE Helase Photo-Repair Cream 50 Start with a Vitamin C serum Your 20's are full of habits that can disrupt the skin, like pulling all-nighters and partying. As fun as this time is, Vitamin C helps you counteract the damage as it is one of the strongest topical antioxidants. A Vitamin C serum will soften lines, firm skin, and brighten your complexion, as well as protect your skin against environmental skin damage from free radicals. I suggest applying a few drops to your face in the morning after cleansing and before a moisturiser and your SPF in order to see a transformation.
Recommended products: LAMELLE Correctives Vita C Lipid , sk.in gloss | radiant shot
In your 30's:
Start using retinol
Your early 30's is the best time to start using retinol. Retinol is a derivative of Vitamin A, and it helps smooth skin texture, promotes skin renewal, brightens skin tone, reduces acne, and prevents ageing.
Although it has it benefits, there are some precautions that you need to take when using this active ingredient. Retinol can lead to flaking, redness, and burning if used too frequently or if you're using a formula with percentage of retinol that's too strong for you. While there is an adjustment period, it's also not recommended for people with overly sensitive skin. A good recommendation for sensitive skin is to use a retinol esther such as granactive retinol, which minimises the potential for a skin reaction.
Here's how to use retinol safely:
Only apply to your skin at night. Start with a lower concentration first before moving to higher concentrations and only apply a few times a week. Don't use with other exfoliants. Graduate to more potent higher concentration retinol every night. It is important to apply SPF the morning after.
Recommended products: Sk.in avenge| HPR- 5 , Sk.in avenge | HPR- 4 , Sk.in avenge | HPR- 3
In your 40's:
Utilise at-home chemical peels Nothing leaves your complexion looking and feeling as glowing and polished as a chemical peel does. Chemical peels stimulate your skin and break down the so-called glue that holds your dead skin cells together. The result is skin that's smoother and firmer.
If you don't have time to visit your aesthetic medical practitioner, skin therapist, or dermatologist, you can treat yourself to a treatment in the comfort of your own home. When it comes to choosing an at-home peel, look for options with a 10% glycolic acid formula.
Here's how to safely do a chemical peel at home: Only do a peel once a week. Wash your face before applying the peel.
Make sure to follow the directions on the packaging. Use a timer. Follow with a moisturiser.
Recommended products: NEOSTRATA Smooth Surface Glycolic Peel , sk.in avenge | glyco-10, DERCA AHA Home Peel Kit
In your 50's:
Try peptides: Peptides are what proteins are made of. In the world of skin care, when people refer to proteins they almost always mean collagen or the protein that gives your skin its structure. By adding peptides to your skincare routine, you're sending an SOS signal to your cells to produce more collagen.
Peptides in cosmetic skin products help calm and firm your skin and is safe to apply in the morning or at night. I suggest opting for a peptide-packed serum or moisturiser which will penetrate your skin deeper than a face wash.
Recommended products: ZO Skin Health Growth Factor Serum , IMAGE SKINCARE the MAX stem cell serum with VT® , Dr Schrammek Time Control Night Cream
Upgrade your serum
Serums will take you skincare routine to the next level. They are packed with active ingredients, and so while they are pricey, their potency make them worth the price. Concentrated serums also target skin problems more effectively than other products. If I could give you one tip and one thing to invest in, make sure it is a good serum.
Recommended products: ZO Skin Health Growth Factor Serum , sk.in bounce | combo shot , FILORGA NCEF-Intensive®, MESOESTETIC Radiance DNA Essence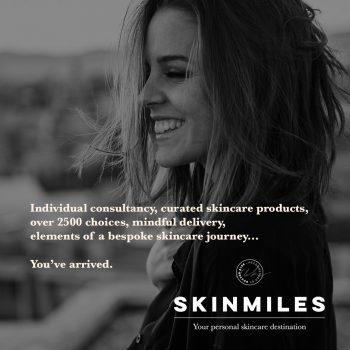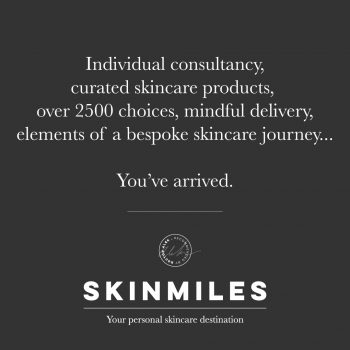 My final piece of advice is to consult an aesthetic medical practitioner, a skincare therapist or a dermatologist. They will help you to learn what skincare products will be the most beneficial for every age, for your skin type and more importantly, how to use them safely.
There are also online consultation options available, including live chats and assessments which provide helpful advice and information. SkinMiles.com offers bespoke advice through our Face2Face Assessment. Fill in a few questions and attach a photograph of your face, to receive a recommended personal skin product regime.
Visit www.skinmiles.com and sign up for your free Face2Face Assessment.