Roche and the Kolisi Foundation launched a children's book, Keto and Zuri Learn about COVID-19, that will help parents and caregivers across Africa explain COVID-19 to children by sharing scientific facts in age-appropriate language.
The book is available to download for free on both the Kolisi Foundation and Roche's websites, and a limited run of free printed copies will be distributed throughout Africa in seven languages.
In South Africa, Transnet, a 25-year partner of Roche, will be handing out a limited printed supply of the books through the Phelophepa trains. These two trains, of which Roche is the main external sponsor, are free, mobile healthcare clinics that are now dedicated to COVID-19 screening, testing and awareness for people living in rural communities.
The One by One Target Covid Campaign is also a partner of Keto and Zuri Learn about COVID-19. The Campaign is proudly supporting the distribution of the new children's book in Uganda, Zambia and the Democratic Republic of Congo. To help spread further awareness, they announced the creation of the book to their AfricaCovidChampions who they brought together in an effort to spread reliable information about COVID-19.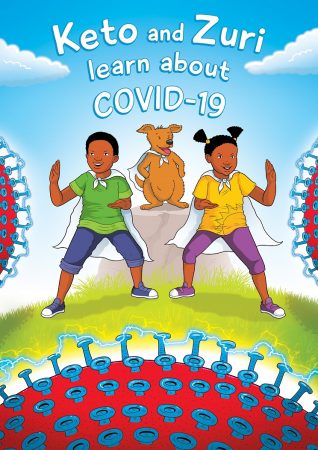 Digital copies of the children's book can be downloaded here. It is available in multiple languages, including English, Afrikaans, Zulu, Xhosa Setswana, Portuguese, French: https://www.roche.com/sustainability/philanthropy/covid-19-childrens-book.htm
About the Kolisi Foundation
Founded by Siya and Rachel Kolisi, the Kolisi Foundation has the vision to change the narratives of inequality in South Africa. Seeking to support people living in under-resourced communities in South Africa by providing relief resources, facilitating capacity-building and horizontal learning exchanges, and mobilizing and advocating for systemic change.
Driven by their motto to 'remember the one, one by one', the Kolisi Foundation is invested in researching, piloting and developing projects centred around three programmatic areas: Food Security, Gender-Based Violence, and Education and Sports Development.
For more information, please visit www.kolisifoundation.org.
ALSO SEE PARENTING TIPS FOR ONLINE-SAVVY KIDS