A great balance of saltiness from the sautéed greens and creaminess from the poached eggs and yoghurt meet with this divine late breakfast or light lunch. Let's get to it:
Hands-on time: 15 minutes 
Total time: 15 minutes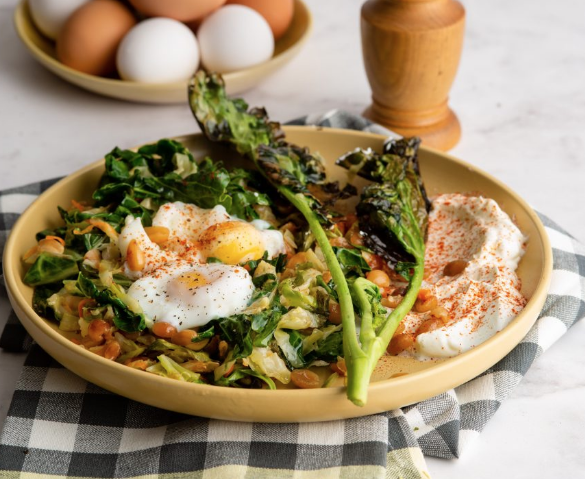 Ingredients
500 g spinach, kale, coleslaw mix or morogo, or any combination of greens

30 ml (2 tbsp.) butter

30 ml (2 tbsp.) oil

150 g roasted peanuts

Salt and pepper to taste

4 eggs, poached to your liking

200 g labneh or cultured yoghurt

Paprika to sprinkle

Chilli oil to drizzle
Instructions
FINELY slice the greens, rinse and pat dry.
MELT the butter and oil in a large pan over medium heat.
SAUTE the greens in the oil until wilted, add the peanuts and season to taste.
TO serve, spoon a couple of tablespoons of labneh onto each plate, with the greens alongside and top with poached egg. Drizzle with chilli oil and sprinkle with paprika. Serve immediately.