Sweet and sharp, these are an Italian-inspired Easter bake with maximum appeal.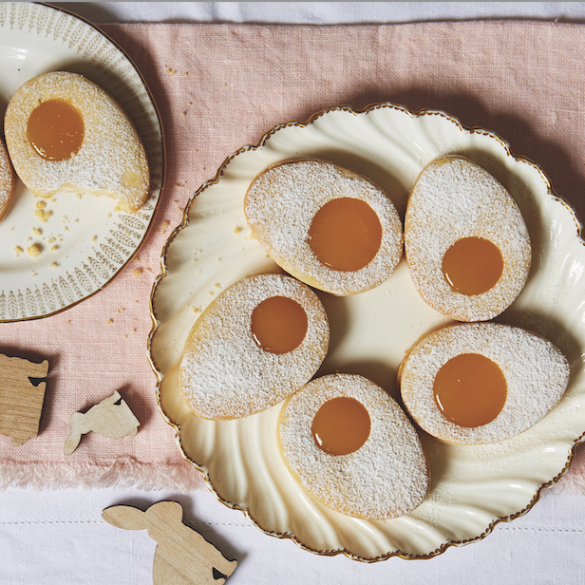 Ingredients
 Orange and lemon easter egg biscuits recipe
120 g unsalted butter, softened
120 g caster sugar
1 egg
Zest of 1 lemon
1⁄2 tsp vanilla extract
250 g plain flour
120 g orange curd
Icing sugar, to dust
You will need
An egg-shaped cutter – ours was 8.5 × 6 cm, and a small round cutter– ours was 3 cm; a baking tray that's
large enough to fit in a fridge, lined with parchment paper
Instructions
1. In a large mixing bowl, cream the butter and sugar together until pale. Add the egg, lemon zest and vanilla extract, and combine. Fold in the flour to form a dough. Press together into a disc, wrap in cling film and chill for 40 min.
2. Roll the biscuit dough out until it's about 5 mm thick. Cut out 24 biscuits using the egg-shaped cutter and place on the baking tray. Using the small round cutter, cut out a 'yolk hole' from 12 of the biscuits. Keep re-rolling the dough until you have used it all up. Chill for 20 min.
3. Heat the oven to 180°C. Ensure that there's at least a 2–3 cm space between each biscuit on the baking tray. Bake for 12–15 min until crisp and lightly golden. Leave them to cool on a wire rack. You can make these a day ahead, and at this stage, store them in an airtight container and carry on with step 4 when you're ready to eat them.
4. Spread the whole biscuits with 1 tsp orange curd and top each with a biscuit with a hole in. Dust generously with icing sugar, then top up with more orange curd for a plump 'yolk'.
5. Enjoy your homemade Orange and lemon easter egg biscuits!
Makes 12 • Ready in 25 min, plus chilling
ALSO SEE ITALIAN EASTER BREAD RECIPE