Are you reaching for the dry shampoo more often than you'd like? Oily hair is a frustrating problem to have. One minute your hair is blowout perfect, and the next it has an oil slick settling in. It feels dirty so quickly and leaves you embarrassed in general. By knowing the reasons it happens, and with a few good products and techniques, you can learn to beat the grease.
Why is my hair so oily?
Your hair produces a certain amount of oil to hydrate your scalp and protect your hair. This oil production is a natural part of healthy hair. Sometimes the oil mixes with sweat and dirt causing that visible slick we associate with oily hair. For the most part this is an unavoidable natural occurrence, but if you're prone to build up it may be down to other factors.
Over-washing: Yes, it is possible to wash your hair too often. It is an unexpected cause of oily hair, but one of the most common causes. Washing your hair signals your scalp to produce more sebum. When you frequently wash your hair your scalp is being told to be in oil production overdrive.
Conditioner: Conditioner tends to cause a fast oil pile up, making your hair look greasy soon after washing. Conditioner should not touch your scalp but rather be applied to the ends only.
Heat: While a humid day can cause oily hair, we're talking about straightening irons and blow dryers. While they give a smooth, sleek finish they can also mess with your scalp's oil production and make your hair look greasy faster.
A dirty brush: You wouldn't wash your face and then dry it with a filthy towel. So why wash your locks only to brush your hair with a dirty hairbrush? Hairbrushes can be full of styling products, dust, oils and general gunk. If you are not regularly cleaning your brush you are putting all of that in your hair each time you brush it.
Touching: Playing with your hair, running your fingers through it, twirling it and even scratching your hair can make it look and feel oily. Touching your hair can stimulate oil glands.
Tying it up: A tight high ponytail might feel like a low-maintenance style but it can be the reason for your oily hair. It can lead to the accumulation of oil and dirt on the scalp, underneath where your hair-tie sits. The hair-tie acts as a roadblock, trapping oil and dirt.
How to remedy oily hair
Shampoo better, but less often
If you are washing your hair everyday or so, try slowly stretching out the days between washes. Playing with how frequently you wash your hair will help balance out your scalp's oil production. And while cleansing your hair may seem like a straightforward process, you might want to think about how you may be doing it wrong.
Shampoo should be gently worked into the roots and scalp without the use of your nails or creating any unnecessary friction. Focus just on your scalp with – that's where the oil and dirt is, after all – with a massaging action. The ends of your hair will be cleansed as you rinse and the shampoo flows through the strands.
Using a clarifying shampoo every now and then will help. We love the Kristin Ess Hair Scalp Purifying Micellar Shampoo, R180 from Clicks. It is a deep cleansing shampoo that will hydrate your scalp while removing build-up. You can also remove build-up with a DIY solution: mix one part apple cider vinegar to eight parts water, place on your hair and let it soak in for a few minutes before rinsing out with clean water.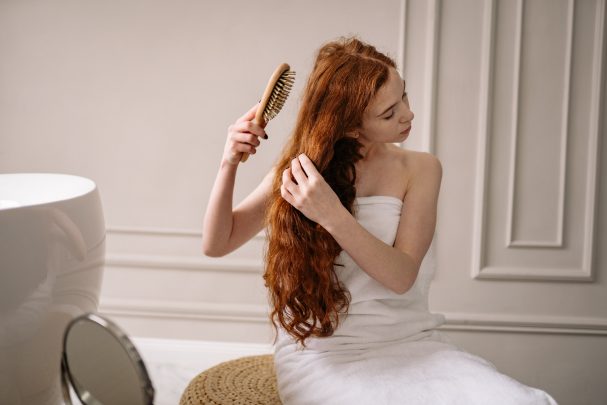 Stick to lightweight products and air-drying
You should only be applying conditioner and hair masks to the ends of your hair. As your scalp produces its own oils you don't want to be adding anything on top of it if you suffer from oily hair. Sticking to a lightweight conditioner and steering clear of heavy products is recommended.
As heat styling can wreck havoc on your scalp, let your locks air-dry as much as possible. An air-dry cream can help you tame frizz and embrace your natural hair texture. The OGX Coconut Miracle Oil Air Dry Cream, R219 from Takealot, will keep flyaways at bay and add definition while keeping hair looking fresh.
Choose a good brush
A high-quality natural brush will help evenly distribute oil from your scalp down. A boar-bristle brush is recommended for those prone to build-up. Try the Ceramax 100% Boar Bristle Ionic Antibacterial Paddle Brush, R175 from Retailbox.co.za. But be aware of over-brushing though. If you drag too much oil away from your scalp it is going to be signalled to produce more.
ALSO SEE: