The word 'Namib' means 'vast place'. This seems appropriate, given that Namibia, with around 2.3 million people spread over almost 825 000 km2, has the second lowest population density in the world. But even though the desert might look like nothing but emptiness as far as the eye can see, it's bursting with life. Namibia is often referred to as SA's 10th province, because, for decades, it fell under the administration of the SA government before gaining its independence in 1990. My former Namibian colleagues will never admit it, but the whole country is essentially small-town South Africa, and that's a good thing for holiday-makers. Allow me to explain. Being able to drive from most cities to Windhoek (and beyond), without needing to worry about exchanging money or organising visas beforehand makes life really easy. Adding to that, everything looks familiar to the South African traveller, with a Namibian twist. Aside from the bureaucracy of the border post, you'd think you're just in a slightly drier part of the country
than you're used to.
ARE WE THERE YET?
The drive from Cape Town to Windhoek, for example, is doable in one day, but I'd recommend chopping the roughly 14-hour trip (1 400 km) into slightly more manageable halves. One of the more notable sights on day one includes the Clanwilliam Dam, a favourite for motor-boat enthusiasts. This is citrus country, so be sure to stop at one of the many padstals along the way to buy a giant pocket of oranges. If you're more partial to grapes, however, then the hidden valley that is the Cederberg wine region is just a somewhat hair-raising gravel mountain pass away. The N7 highway itself is actually rather dull but, depending on the time of year,
you may be treated to lovely roadside flowers when in Namaqualand. The road is in good condition, but there are often stop-go points and construction works along the way, so driving only during daylight hours may be wise. The town of Springbok will catch your eye, if only as a refilling point for vehicles and stomachs, but if you're looking to break the journey up then this should be the first place you find somewhere to rest your head for the night as towns
further north have more 'rustic' offerings.
There are a number of options around the town, suiting various budgets, including the Springbok Hotel. Booking ahead of time online is recommended, but you won't be too hard-pressed to find a room on a walk-in basis.
NORTH OF THE BORDER
From Springbok, it's a straight shot to the Vioolsdrift border post. Descending the canyon as you make your way to the Orange River is breathtaking, and would have made the perfect location for filming The Martian. Although short, the drive here is an other-worldly experience.
Paperwork done and road taxes paid, it's either onwards to Windhoek via the main B1 or, for the more adventurous, to Ai-Ais and the Fish River Canyon. A slight deviation west, the canyon offers awe- inspiring views and camping near hot springs, to which many South Africans
flock each holiday season. A five-day hike through the canyon's 90 km of twists and turns is a holiday in itself, and worth investigating if you're that way inclined.
SAFARIS, MOUNTAINS AND COASTS
From Windhoek, it's a short drive north through the industrial town of Okahandja, en route to the west coast and bustling town of Swakopmund – where locals go to holiday. I'd recommend first, however, another deviation; this time to the Erindi Private Game Reserve. One of Africa's
largest private conservation areas, Erindi covers more than 70 000 ha of land and boasts an impressive array of more than 10 000 animals. The Old Traders Lodge is the pinnacle of luxury, and the reserve offers safari drives packed with game. It's here I was lucky enough to witness a rare sighting of a leopard and her cub, fresh after making a kill – a sight I will not soon forget.
If you can tear yourself away from Erindi after a night or two, then a short drive to the coast awaits. Along the way you'll pass the mining towns of Karibib and Usakos, and excavation trucks larger than the average house. You'll also pass by the unmissable Spitzkoppe, jutting out from the earth and worth more than a few stops for photo opportunities from various angles.
The town of Swakopmund is a bit of an enigma. Nowhere else can you enjoy traditional German beer and food (Eisbein anyone?) with a view of dunes and the Atlantic Ocean all in one. It's a holiday playground for Windhoek residents, South Africans and Germans alike, each drawn to the area for reasons that become apparent as soon as you step foot here. With cool winds blowing off the Atlantic, and German architecture, be sure to take a walk around town and
marvel at this unique blend of cultures and history.
SANDY SEAS
The drive south, from Swakopmund to Walvis Bay, is simply magnificent. With rolling sand dunes to your left and the crisp blue Atlantic to your right, you'll find it really tough to concentrate on the road. Just before you cross the bridge of the Swakop River (after which the town is named), you'll fi nd the Desert Explorers. Book a quad-bike tour and cruise the dunes. A qualifi ed guide takes you along routes of various lengths, depending on your thirst for adventure. You may need to book your spot in advance, especially during holiday periods.
Continue south to the fishing town of Walvis Bay. Unfortunately, you'll smell it before you see it, but you'll find no place better if you're on the lookout for fresh fish and lobster. Just outside of town you'll find Dune 7, one of the largest free-standing dunes in the world. See how fast you can make it to the top and you'll be treated to views of the town, desert and ocean as you've never seen them before. Sandboarding is also an option around here, but just remember
there are no ski lifts. So what comes down (you) will first have to climb up to the top. Namibia is a veritable treasure trove for South African holiday-makers, and the lack of 'admin' required to visit makes it worthwhile as travel abroad becomes more and more expensive. So, if you're up for a destination holiday in the coming months, why not pack your bags, hop in the car and visit our northern neighbour?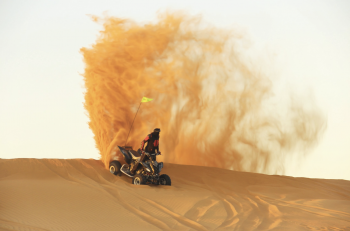 ALSO SEE ADD VICTORIA FALLS TO YOUR BUCKET LIST