Decadent and delicious, we love the theatre that comes with a sparkler!
INGREDIENTS
350 g shortbread biscuits, blitzed
75 g unsalted butter, melted
3 × packs millionaire's shortbread dropsFor the chocolate mousse
150 ml full-cream milk
400 ml whipping cream
200 g dark chocolate, in chunks
3 egg yolks
15 g sugar
4 gelatine leaves, submerged in cold water to soften
For the caramel
2 x 397 g tins caramel
1/2 tsp sea salt flakesFor the topping
600 ml double cream, whipped
Gold leaf, sparklers and sprinkles
You will need:
Trifle dish with a 2.8 L capacity and 22 cm diameter
METHOD
1. Combine the shortbread biscuits and melted butter, then press into trifle dish in an even layer and chill for 30 minutes. Cut the millionaire's drops in half but reserve some whole for decorating.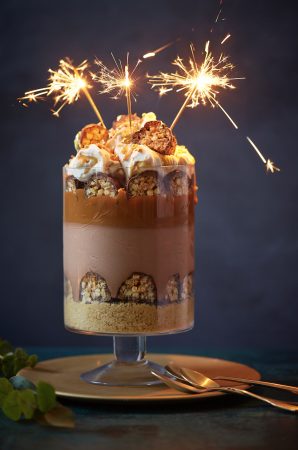 For the chocolate mousse
1. Heat milk and 150 ml of the cream in a pan until steaming but not boiling. Add dark chocolate and mix until melted.
2. In a bowl whisk egg yolks and sugar. Slowly pour the chocolate mixture over, whisking as you do, then transfer back to the pan. Heat until thick enough to coat the back of a spoon.
3. Squeeze the gelatine leaves then stir into the chocolate mixture. Transfer to a bowl and allow to cool in the fridge. Whip the chocolate mixture, then whip the remaining cream and fold together.
4. Line trifle dish with millionaire's drops facing out and fill with millionaire's dropslying flat. Pour over mousse and place in the fridge to set for at least 2 hours.
For the caramel
1. Combine the caramel and sea salt. Taste to check, and add a little more salt if liked. Set aside 50 g. Pour the caramel carefully over the chocolate mousse in an even layer and chill for 1 hour.
2. Place another layer of millionaire's drops on top of the caramel and fill in the centre as before. Mix half reserved caramel with the whipped double cream and cover the millionaire's drops.
3 To decorate, drizzle over the remaining 50 g caramel and sprinkle decorations. Decorate the remaining millionaire's drops with gold leaf, and add to the top.
TIP: We found our millionaire's drops at Woolworths. If you can't find them, try mini cornflake clusters
Serves 20 • Ready in 40 min, plus chilling and setting
ALSO SEE CHRISTMAS PUDDING TEAR & SHARE MONKEY BREAD