The sweet and salty flavour combo of maple chilli carrots wrapped in bacon will have them coming back for more.
ALSO SEE RHUBARB MERINGUE PIE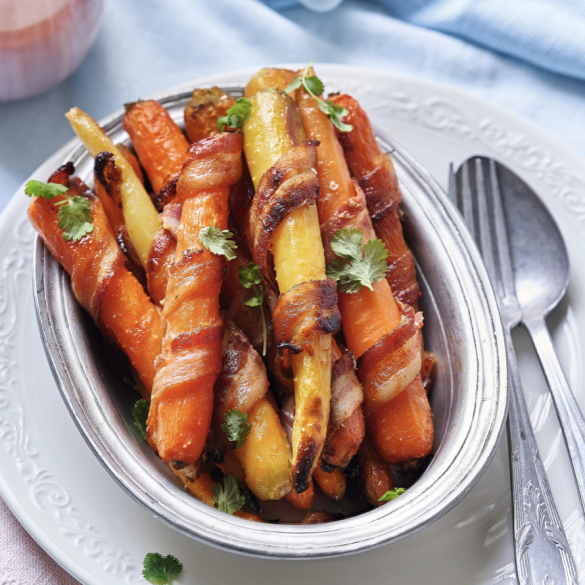 Ingredients
12 long, medium carrots,lightly peeled
6 strips of unsmoked bacon,cut in half lengthways
1⁄4 tbsp maple syrup
1⁄4 tbsp sriracha sauce
Parsley leaves, to garnish
You will need
A large baking tray lined with
baking parchment
Instructions
1. Heat the oven to 200°C. Brush and wash the carrots, cleaning off any muddy 'knots' or marks with a knife.
2. Give each bacon slice a tug to stretch it. Wrap each carrot in a strip of bacon and place bacon ends down on the baking tray. Brush all over with the maple syrup and season with black pepper.
3. Bake for 10 min, remove from the oven, and brush with sriracha chilli sauce.
4. Bake for 15 more min, or until the carrots are tender and the bacon is crisp. Keep an eye on the carrots when cooking, as the bacon browns up quickly. Garnish with parsley leaves.
Serves 6 • Ready in 40 min