Face masks are the ultimate at-home therapy for your skin. Want to boost hydration? Need to fight acne? Looking to combat the signs of ageing? There's a mask for that! Lately though, I have been thinking a lot about peel-off masks and wondering if I should really be using them. In the past I have been partial to purchasing a peel-off mask because they tend to be less messy to remove. But sometimes it can feel really painful! Am I doing any good?
As I try and treat my skin more gently – she's a sensitive organ you know! – I have become more weary. So I decided to ask a professional for her take on peel-off masks. Tasneem Valley is a registered aesthetician based in Johannesburg but with clinics in Durban and even Daar es Salaam. Here's what Tasneem revealed.
Face masks
As face masks are a great way to deliver a high concentration of ingredients into the skin, Tasneem assures us that there are tons of benefits, including:
hydrating the skin
removing excess oil
calming the skin post-treatment
lowering the skin's temperature after invasive treatments
soothing the skin
plumping and balancing the skin
they are occlusive, meaning they act like a blanket on the skin allowing product to deeply penetrate the pores
Of course the above benefits all depend on the type of mask you choose. Tasneem explains that a hyaluron mask is intensely hydrating, attracting and binding moisture. On the other hand, a clay mask tightens and clarifies, absorbing excess oil – the key term here being excess. Then you get gel masks which Tasneem says can 'contain polyhydroxy acids, marine extracts, and antioxidants that help hydrate and replenish the skin.' Exfoliating masks she explains are used to 'help slough off dead skin cells and clean pores,' often containing hydroxy acids.
Peel-off masks
Tasneem notes how there has been a rise in 'TikTok Therapists' who have placed themselves as the 'authorities on skin' but have no professional experience nor credentials. However with thousands of followers continue to give advice on skincare. They can often be found promoting peel-off masks, but Tasneem warns us to watch out.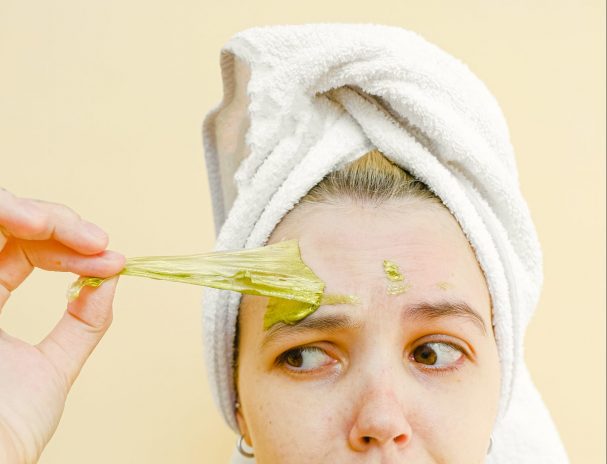 Peel-off masks are often marketed for acne but Tasneem says, 'while it may be incredibly satisfying to peel something off your face and watch the dirt removed in the process, many of these masks take off only the top layer of the blackhead and don't remove the pus that's sitting at the base of it.' That's leaving the most important part behind! Tasneem adds that peel-off masks 'also risk removing the top layer of your skin and upsetting your natural facial biome in the process. This can lead to issues later with dryness or even further breakouts.'
Wondering why this would happen? Tasneem briefs us:
Our pores naturally contain oil, which helps to keep the skin hydrated, balanced and healthy. When we remove all this oil from the surface layer, our skin goes to work to replace it within hours. To compensate for the loss though, it produces a little more oil than you need. This can then lead, ironically, to increased oiliness. In addition to the oil buildup, dead skin cells cause the pores to become blocked, and more pimples appear.'
And if you thought that was the end of why peel-off masks can be a potential disaster for your skin, there's one more! Tasneem explains how peel-off masks also come with the great risk of contact dermatitis due to the chemicals they contain. As an aesthetician she says 'there are times when people's skin becomes red, itchy, weepy, even peeling off – leading to post-inflammatory hyperpigmentation (PIH).'
If you want a no-mess mask, sheet masks are definitely the answer! These will be my go-tos from now on for sure. And remember, always consult your aesthetician before purchasing masks that contain active ingredients.
Want to get more expert knowledge from Tasneem Valley?
Follow her on Instagram and TasneemV Skin and Laser too.
ALSO READ: