Not your typical ratatouille, but once you try our spin on it- Lamb rataouille with pesto dressing recipe, you wont look back . These fresh and vibrant ingredients,make the perfect dish for entertaining and just a breeze to make.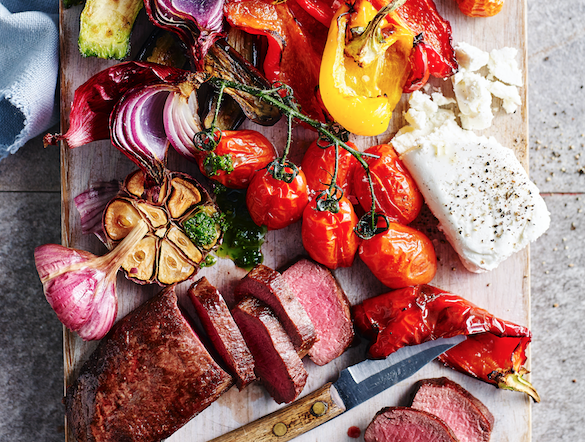 Ingredients
5 baby brinjals, thickly sliced lengthways

1 baby marrow, thickly sliced lengthways

1 red onion, cut into wedges

1 red bell pepper, quartered lengthwise, seeds removed

1 yellow pepper, quartered lengthwise, seeds removed

250 grams cherry truss tomatoes

1 bulb garlic, halved crossways

1 tbsp olive oil

900 grams lamb or beef fillet

3 tbsp butter

120 grams firm goat's cheese

2 garlic cloves, crushed

2 tbsp finely grated parmesan

1 tbsp toasted pine nuts

1 tbsp lemon juice

½ cup firmly packed fresh basil leaves

⅓ cup olive oil
Instructions
PREHEAT the oven to 200°C. Oil two large shallow baking trays.
COMBINE brinjals, baby marrow, onion, pepper, tomatoes, garlic and oil in a large bowl. Season.
DIVIDE vegetables between trays. Roast, uncovered, for 25 minutes or until vegetables are tender, turning occasionally.
PESTO DRESSING
PLACE garlic, parmesan, pine nuts, juice, and bail in a food processor. Pulse until roughly chopped. Pour in the oil and blend simultaneously until emulsified.
ADD some oil to a large frying pan and place on medium-high heat. Season lamb well, add to the pan cook for 5 minutes on each side or until browned and cooked, add the butter while cooking and spoon over the steak as it cooks. Remove from the pan; rest, covered, for 5 minutes before slicing thickly.
SERVE lamb, vegetables and cheese on a large platter; drizzle with dressing.
FOOD TEAM TIP: Feel free to substitute the pine nuts in the pesto for sunflower seeds .