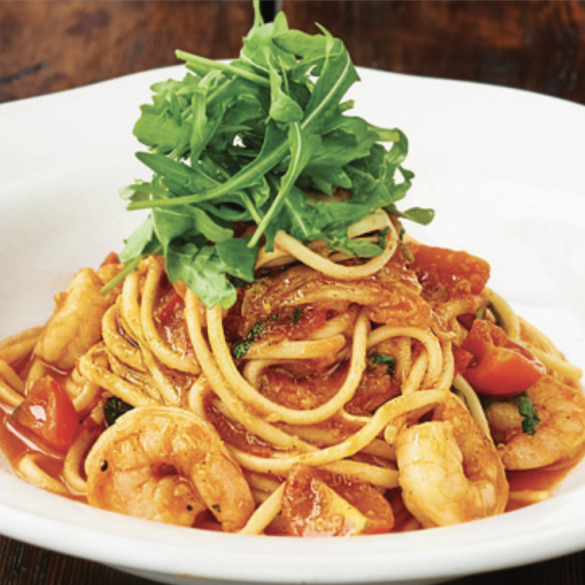 Ingredients
12 large raw shell-on king prawns from a sustainable source

1 good pinch of saffron

olive oil

1 onion

4 anchovy fillets

1 splash of Riesling , crisp & dry

1 x 400 g tin of chopped tomatoes

2 cloves of garlic

200 g ripe cherry tomatoes

2 fresh long red chillies

½ bulb of fennel

½ x Royal pasta dough., or 320g dried linguine

1 large handful of rocket

1 lemon

extra virgin olive oil
Instructions
Prawn linguine is definitely close to people's hearts – it's one of the bestselling dishes on the Jamie's Italian menu. Sweet prawns, freshly made pasta, rich tomatoes, lemony rocket and a kick of chilli – it's definitely comfort food. In the restaurants, our sauce base takes hours to make, so I've adjusted that complex recipe to make it more home friendly and help you achieve maximum flavour from all those lovely ingredients.
Peel the prawns, reserving all the heads and shells. Run a knife down the back and pull out the veins. Keep 4 prawns whole, running your knife down those ones again to butterfly them. Chop the rest of the prawns into small chunks to help distribute that sweet taste throughout the dish. Put the saffron into a little bowl with a thimble of boiling water. Place the prawn heads and shells in a large pan on a medium heat with a lug of olive oil and fry while you peel and finely chop the onion, then add it to the pan.
Cook until the onion starts to soften, stirring occasionally. Add the saffron with its soaking water and the anchovies. Turn the heat up, add the wine and cook it away, then add the tinned tomatoes, 1 tin's worth of water and a pinch of salt and pepper. Bring to the boil, the simmer for 12 minutes. Cool a little, and in small batches, blitz in a blender until smooth, then pass through a coarse sieve and season to taste.
Put a large pan of salted water onto boil for the pasta. Peel and finely slice the garlic, quarter the cherry tomatoes and finely slice the chilli. Trim and finely slice the fennel, preferably on a mandolin (use the guard!). You can make this with the fresh or dried pasta, so if using fresh cut the sheets into linguine.
Now it's time to focus. Great pasta is all about timing and confidence – the sauce takes 4 minutes, so if using dried pasta, get that on first and start the sauce after 8 minutes; if using the fresh, cook it halfway through the sauce process – I don't want you to overcook the prawns or pasta.
Place a large pan on a high heat and, once hot, add a good lug of olive oil, quickly followed by the garlic and chilli. After 30 seconds, toss in the whole prawns, then after another 6 seconds add the chopped prawns, cherry tomatoes and fennel and toss again.
Pour over the sauce and bring to a simmer. At this point, drain your cooked pasta and place it on top of the sauce. Toss again, quickly check the seasoning and divide between four bowls, followed by any leftover prawns and sauce.
Top each portion with a clump of rocket, add a squeeze of lemon juice and drizzle with extra virgin olive oil. Eat it, and be proud of yourself.
Find this recipe and more on Jamie Oliver's website