Does your skin react to almost everything? Do you often experience tingling, redness, tightness, heat sensations or skin discomfort? You are not alone. 1 in 2 women report having hypersensitive skin1.
Those who struggle with hypersensitivity and skin reactivity know that it can be difficult to control and is very unpredictable. Skin reactions can be triggered by emotions, external factors, weather, unsuited products and more.
DADDY'S DEALS: GIVE YOUR SKIN TOP CLASS TREATMENT WITH A REJUVENATING FACIAL, LED LIGHT TREATMENT & MORE AT AESTHETICS FOR ONLY R349.00
In hypersensitive skin, the sensory neurons that send responses from the skin to the brain often induces an inappropriate response. In hypersensitive skin, the natural skin barrier is also compromised, which can increase the likelihood of extreme responses to stimuli.
Finding the right skincare routine when you have hypersensitive skin can be daunting and frustrating, not knowing if and how your skin could react. Dermatologist-recommended French skincare brand, Eau Thermale Avène is here to help.
Eau Thermale Avène have developed a new patented, postbiotic active ingredient:
D-SensinoseTM. Derived from the microbiota of the brand's signature soothing Avène Thermal Spring Water, this ingredient acts on sensory neurons in the skin to help control hypersensitivity and reactivity. This new ingredient is found in the new Tolérance Control range.
The Tolérance Control range is specially formulated for hypersensitive and reactive skin with ingredients selected for their purity, skin affinity and efficacy, without potentially irritating additives. With 98%* natural-origin ingredients, and sterile cosmetic technology, Tolérance Control is formulated with the ultimate respect for your skin. Clinical data shows that this innovative range helps calm the skin in 30 seconds2, restores the skin barrier in 48 hours3 and hydrates for 24 hours4.  With extended use, studies also show that hyperreactivity is controlled5.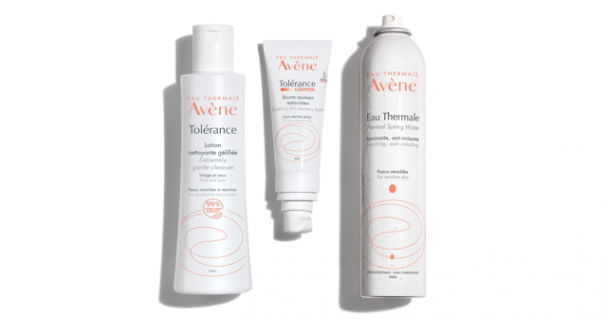 Products in the range include the Tolérance Control Soothing Skin Recovery Cream, ideal for normal to combination skin types and the Soothing Skin Recovery Balm, ideal for drier skin types.
As complementary care, you can pair this with the new Tolérance Extremely Gentle Cleanser and Avène Thermal Spring Water Spray for extra soothing and refreshing benefits.
Find these products at leading pharmacies, selected retailers and online at Dermastore.
For more information, visit www.eau-thermale-avene.co.za.
1. ARCANE Study (2008), Skin sensitivity and intolerance; Farage M. A. (2019) The prevalence of sensitive skin. Frontiers in medicine, 6, 98.  2. User satisfaction assessed on 25 subjects, based on 2 applications per day for 3 months.  3. Ex-vivo test on epidermis grown in reduced water conditions.  4. HI kinetics, 26 subjects. 5. Efficacy evaluated by electrodermal response and sensitive scale on 25 subjects, based on 2 applications per day for 3 months.
*Percentage of natural origin ingredients varies across the product range. | PFZA/202109004