Delicate, baked ricotta tarts are the way to many hearts. Make this simple batch in no time!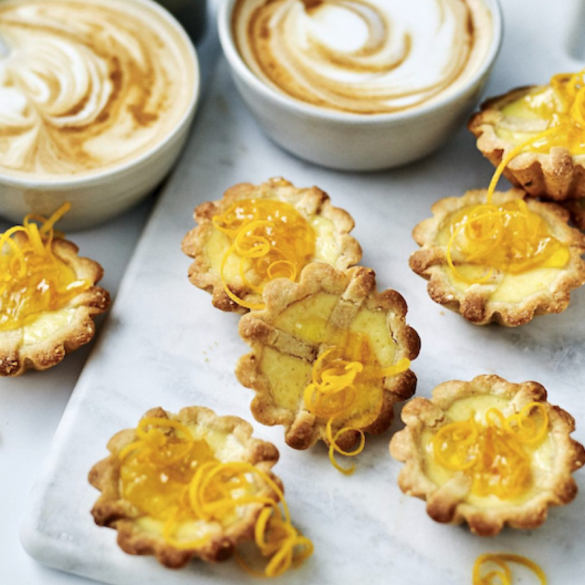 Ingredients
55 g blanched whole almonds, roasted

¼ cup sesame seeds, roasted

1 ¼ cups (185 g) plain flour

125 g chilled butter, coarsely chopped

¼ cup caster sugar

1 egg yolk

1 tsp vanilla essence

1 tbsp chilled water

RICOTTA FILLING 

1 ¼ cups ricotta

¼ cup caster sugar

1 tbsp finely grated orange zest

1 egg 

1 egg yolk

TO SERVE

½ cup fine-cut orange marmalade

1 orange, rind removed and cut into thin strips
Instructions
PASTRY
ADD almonds and seeds to a food processor and blend until finely chopped. Add flour, butter and sugar, process until the mixture resembles breadcrumbs.
ADD egg yolk, vanilla and the water. Blend until the mixture just forms a dough.
COVER dough in cling film and refrigerate for 30 minutes.
PREHEAT oven to 180℃.
GREASE 18 small fluted tins (6.5cm top and 3.5cm deep). Place on a baking tray.
ROLL pastry out onto a floured surface to 3mm thick. Using an 8cm round cutter, cut 18 circles of pastry and line the tins carefully, pressing into the base and sides and trimming any excess. Freeze for 10 minutes. Gather excess dough into a ball and re-roll, cut into 1cm thin strips.
RICOTTA FILLING 
ADD ricotta, sugar, orange zest, egg and egg yolk to a bowl. Beat until smooth.
SPOON ricotta filling into the tart shells and decorate with thin pastry strips.
BAKE tarts for 35 minutes or until golden and cooked through.
COOL tarts in tins for 5 minutes, then remove from tins and set on a wire rack to cool completely.
TO SERVE
TOP with orange marmalade and strips of rind.
TEAM TIP: If you don't have 18 tins, use as many as you have, refrigerating the circles of pastry until ready to use. You can also use a muffin tray. This pastry is very forgiving, if it cracks when lining the tart tins, simply press it back together.