I personally love the feeling of waking up and feeling stiff muscles, it lets me know I've challenged my body to something a bit different! But that being said, by lunchtime I'm trying to figure out how to ease the pain.
Stiff muscles are medically referred to as delayed onset muscle soreness (DOMS). This often happens when you start a new type of exercise, change up your usual exercise routine or increase the duration of your physical activity. The NHS describes how this happens: 'When muscles are required to work harder than they're used to or in a different way, it's believed to cause microscopic damage to the muscle fibres, resulting in muscle soreness or stiffness.'
It's usually not harmful and can be a good sign if you're trying to push your fitness level. But when it does get a little painful, here's how to ease stiff muscles.
Stretching
This is both a preventative measure and a way to soothe pain from stiff muscles. You should be incorporating stretching before exercise to warm up your muscles, and afterward to relax them. But stretching should be done everyday, especially when your muscles are achey. This will improve circulation, reduce any inflammation and decrease stiffness.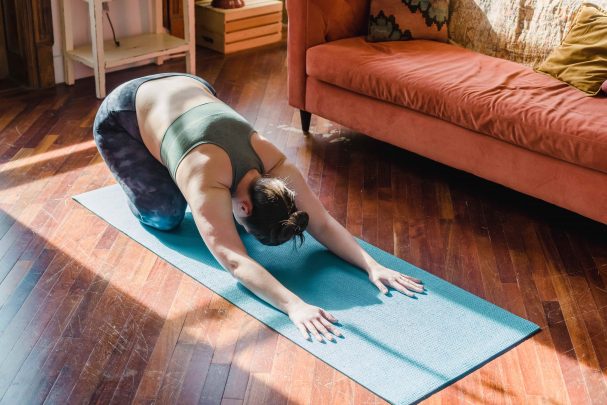 Protein & Antioxidants
What you eat has an important role in your recovery. To help ease stiff muscles, experts recommend filling up on lean proteins, like chicken, white fish, Greek yoghurt and beans. They also recommend getting a dose of antioxidants from foods like berries, apples and dark leafy greens. It is recommended to consistently include these in your diet to make any real impact on recovery.
Magnesium
Magnesium is incredibly important to muscle health. Without enough magnesium, muscles can't properly relax and can end up cramping – which you really don't want! You can take a daily magnesium supplement to help loosen tight muscles and improve flexibility. Otherwise you can fill your diet with magnesium-rich foods like nuts, seeds, avocados, fish, bananas and dark leafy greens.
Hydration
We all know we should be drinking about 8 glasses of water a day. But did you know that having enough water in your body helps muscles work at their best? Your 8 glasses don't have to be water alone too! Any healthy drinks (like kombucha, water kefir, juices free from additional sugars and teas) count towards hydrating. When exercising you'll need to hydrate even more as studies have shown that dehydrated athletes have reduced muscle strength and increased fatigue.
Heat, but also ice
Both a relaxing hot bath and an ice bath have been proven to help stiff muscles and improve recovery time post-workout. If a candle light bath is more your scenario make sure it's not overly hot and take some gentle stretches right after – it's prime time for this as your body will be supple. While athletes benefit from ice baths, you could attempt a cold shower or dip in the ocean instead. If you are targeting specific areas of stiff muscles you can turn to heat pads and ice packs, better yet, use them interchangeably!
5 Fitness Tips for Working Out at Home During Lockdown – According to Liezel van der Westhuizen