Sue Lederle is the owner and lead interior designer of Lederle Design, a Cape Town- based developer and interior design studio, creating beautiful indoor and outdoor spaces in South Africa, the UK, Italy, Mauritius and France. She is known for her smart use of bold colours and textures in and around the home, "it doesn't matter the season, colour is powerful and makes me so happy. My clients tend to agree!" she laughs.
We have asked Sue what advice she has for adding some warmth to your home this winter. 
Add some texture
A new throw or cushion on a bed with a lovely textured fabric can make a room feel cosier. "I love the throws from India Ink. Each handcrafted with beautiful and surprising colours on each side," adds Sue
Candles
You can never have too many candles. Pop some candles beside a vase of roses on your bedside table to add warmth and joy to your space.
Wood
I often use wood for countertops, as it warms up a space, especially in the heart of the home – a kitchen. Wooden tops are comfortable to dine, work or relax at. I also love bringing wooden elements into my work through shelving and cupboards. I often opt for a big wooden standalone wardrobe over a built-in one, which means I can also play around with colour as a focal point by painting the wardrobe in a bold shade. 
Fireplaces
If there is a possibility to have a fireplace in the home then this is a sure way to warm up a home. In our Penzance Place, London Townhouse renovation we redesigned the original fireplace and the traditional look added so much warmth to the room It also presents a lovely styling opportunity through wood storage and the fireside utensils. I have – on many occasions – added a Moroccan tile to the hearth for a pop of colour and updated feel – this worked beautifully in our 188 On Second, Hermanus refresh and added such a beautiful feel to the centerpiece of the room. 
How to add pops of colour
I have worked with so many clients over the years who have been scared of using colour in their homes. They often say they don't like colour or they are worried they will tire of it.
I then add a colourful cushion, a bold wardrobe or paint a wall and they can't get enough. Colour used in the right way can take a great design to a sensational one. 
Tones
Colours don't have to match. For example, if your wall is green you don't need the same green cushions. Use complementary tones of different shades to mix it up. 
Paint
Painting is a very easy and effective way of adding colour to a space. It is also easy to change it up if you want to refresh it. One mistake many people make is painting a single feature wall. To make the colour really pop it's best to use the colour on two adjacent walls rather than just one. 
Art
Find something that you love! A fabric or piece of art can often become the inspiration for the room, and the rest will easily fall into place. 
Wallpaper
Another great way to bring in colour is through wall paper. One place I always have fun with is designing the guest bathrooms. I make these bold and just have fun. Wallpapers are a great way to do so!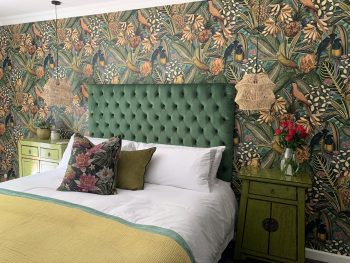 Repurposing
I often use antiques or refurbish older pieces of furniture. Don't be scared of using bold colours on these items, they can make a space pop and add something unique to the space. 
For more information please visit their website.
[Supplied Article]