Central to our Good Health values is treating people with respect. That includes those closest to us, our Good Health family, our customers, suppliers and our wider community. We've been one of New Zealand's major health supplement producers since 1988 and available in South Africa since 2001.
Our range
Our Naturopathic formulations combine vitamins, minerals, and herbs – at therapeutic levels, to offer powerful support for many conditions. Our health supplements and discipline specific complementary medicines are high potency and Good Health customers feel the difference. That's why they keep coming back, month after month!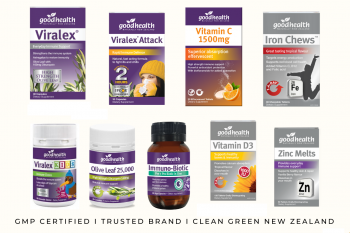 Women's range / Kids chewable range / Viralex Immune defence range / Vitamin and Minerals / Digest and Detox / Joints and Inflammation / Omega-3 Fish oils

Our retailers
Our range of therapeutic health supplements and discipline specific complementary medicines can be found throughout southern Africa in Health shops, independent Pharmacies, Wellness Warehouse and selected Clicks outlets. 
At Good Health, our time is spent training health category specialists in these stores to offer you excellent health advice and best product recommendations. And if a customer isn't happy with their purchase, we give them their money back! That's how much faith we have in our brand and our products.
Pure quality
Wellbeing and vitality are at the heart of everything we do, so we insist on using only tested, quality ingredients to support good health. Our products come from sustainable resources and are GMO free. Wherever possible – as a New Zealand brand, we source these first from local farms and growers, or accredited international manufacturers. Then we optimise their amazing natural properties through our unique enhancement processes.
Good Health Products NZ has Good Manufacturing Practice (GMP) certification which means our products are manufactured in a strictly controlled environment according to international standards and procedures. And, we are audited every two years by our health authorities so our commitment to quality is guaranteed – and that is why our customers love us.
We're always innovating
Developing new and more effective wellbeing products for our customers is a big part of Good Health. We're proud of our innovation awards. We invest in naturopathic and technical research teams who develop world-class formulations, supported with the latest scientific studies and international research. 
Local compliance
In South Africa, health industry compliance is becoming a hot issue. As health supplements are regulated by SAHPRA (South African Health Products Regulatory Authority) as Complementary Medicines, it is important to know that a brand is compliant and recognised by the Regulator. Good Health SA is part of this process as it works toward full status as an importer and distributor of complementary medicines under the new regulations. Buy with confidence from an international brand that is complying with local SA requirements. 
For more information visit: https://www.ingoodhealth.co.za/