This 4-star Cape Country Routes' property the De Zeekoe Guest Farm is surrounded by the Swartberg and Outeniqua mountains and is situated just 7 kms outside Oudtshoorn in the Garden Route's Klein Karoo.
It is acknowledged as one of the 17 'World Hot Spots', together with three overlapping flower regions.  De Zeekoe's unique charm and the variety of extraordinary activities in the area from museums, the longest wine route in the world (R62), the Cango Caves and waterfalls to wildlife ranches and  ostrich farms, makes it the ideal destination for a visit or a stay over in the Klein Karoo. The idyllic setting of this stylish lucerne farm appeals to all – there is something for everyone – from the daring adventure-seekers to those who long for a quiet peaceful getaway.
Guests can choose between various accommodation types, ranging from stylish rooms at the main house to luxurious private cottages with own pool. There are spectacular views, more than 168 bird species and while there are no Big 5's, there are the Shy 5's -the meerkat, the bat eared fox, the aardvark, porcupine and the aardwolf. De Zeekoe offers a world-unique opportunity to 'Walk with Wild Meerkats' – booking in advance is essential – Five Shy Meerkats.  This hidden gem of the Klein Karoo is one of the treasures of the Cape Country Routes Collection.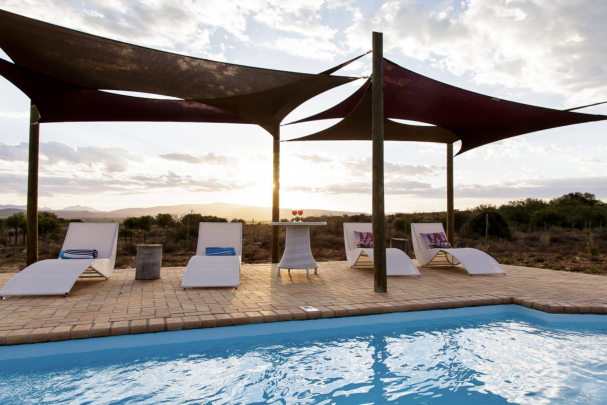 Accommodation
Oudtshoorn Bed and Breakfast Cottages:
These private luxury rooms are only a short 5 min drive from the main house. With 21 different rooms, these houses offer breath taking views of the mountains & abundant birdlife and 162 recorded bird species. This area is malaria free.
Each cottage has been carefully incorporated into the surrounding Karoo field. The 3 cottages are equipped with small bar fridges, safe, coffee & tea, inside fireplace, outside fireplace, showers only, heater/air-con, guest amenities, bath robe, slippers and private deck. Free Wi Fi.
With a stunning restaurant and bar. Breakfast & Dinner served at the main house.
Oudtshoorn Guest House Luxury Rooms:
The Oudtshoorn Guest House Luxury Rooms are tastefully decorated, all open onto cool verandas, from where guests can enjoy a spectacular view of the stunning Outeniqua and Swartberg mountain rangesthat tower in the distance.
All Luxury rooms are equipped with the air-conditioning, fans, electric blankets, fridge, coffee & tea facilities and a hairdryer. Secure parking is available on-site.
Things to do:
Walk with wild Meerkats
Based on one of the most beautiful cattle and alfalfa (lusern) farms in Oudtshoorn, home of the original meerkat conservation site. Here you will be able to experience the Five Shy Meerkats up-close in their natural habitat. The meerkats but are accustomed to human presence. All you need to do is sit back, relax and enjoy seeing them go about their mornings.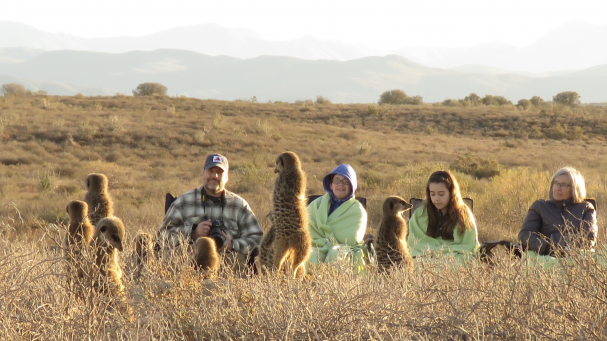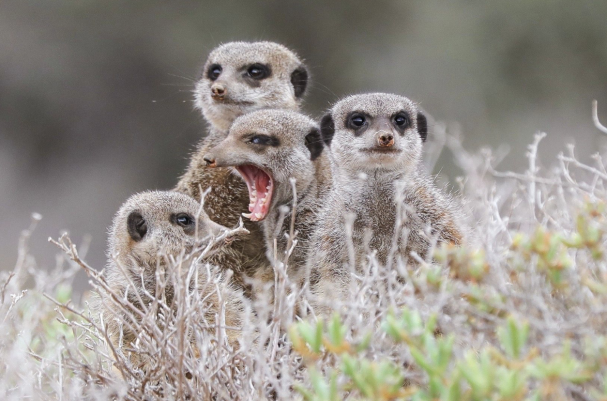 Tours are R660 per person, including chairs and coffee.
Phone: +27 82 551 3019
Visit the Cango Caves
Take a trip to the Cango Caves where you can easy walk through the first six largest and most spectacular halls and continuing through to the "African Drum room".
This tour commences with information on the real discoverers and inhabitants of the cave and then winds its way through the rest of the Caves' cultural and historical heritage.
A comfortable walk through the most majestic of the cave chambers.  Experienced and knowledgeable guides will accompany you on this journey of discovery and knowledge. Around 60 minutes is required to complete the tour.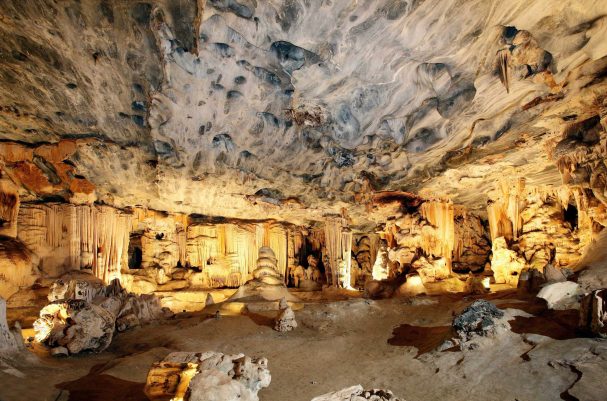 Heritage Tour
Adults: R 170 | Children: R 120
Adventure Tour
Adults: R 240 | Children: R 170
Phone: +27 (0) 44 272 7410
Take a trip to the Ostrich Farm
Ever visited an Ostrich farm? We've definitely added this to our bucket lists! Head to the Safari Ostrich Show Farm and enjoy a fun filled, interactive ostrich farm experience. Take a ride on the only Ostrich Tractor Safari in South Africa to view the Kenyan (Massai) ostrich, Zimbabwean Blue and South African Ostriches.  Go into the chick rearing compartment and view chicks in various stages of development.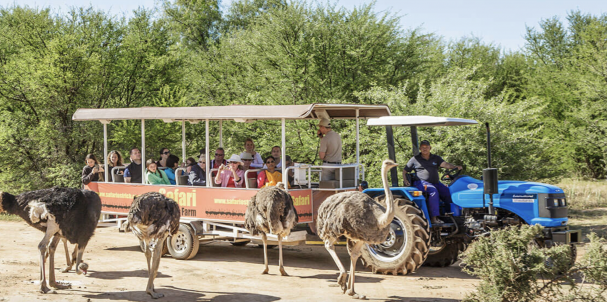 Adults from 15 years old: R162pp (or book online and save 20%)
Children between 4 and 14 years old: R80pp (or book online and save 20%)
Phone: +27 (0)44 272 7312
Note: De Zeekoe visitors gets discounts on these tours
For more, visit Cape Country Routes (CCR).  Cape Country Routes South Africa is a leading group of owner operated and managed accommodation and activity establishments – more than 20 privately owned hotels, lodges and guest houses – located on the scenic and historic routes in the Western and Eastern Cape. All carefully selected for their character, charm and romance, they offer the best accommodation and activity options to suit every taste and budget. 
ALSO SEE:
Kirstenbosch National Botanical Gardens receives global best of the best award