Downward dog, step aside! There's a new type of yoga in town, and it has nothing to do with saluting the sun or sweating it out in a heated room. It's all about boosting your radiance (no injection in sight!).
Whether you'd like to tackle fine lines and wrinkles, or you have noticed yourself holding tension in your face, which is causing you to have nasty headaches and painful eye strain, face yoga can help you. Cost-free and easy to do at home, it can give your skin a youthful glow and boost your well-being.  Not quite convinced? Our world-leading face- yoga expert and best-selling author Danielle Collins (faceyogaexpert.com) explains how.
WHAT IS FACE YOGA?
'It's a combination of face exercises, face massage, face acupressure and face relaxation,' says Danielle. 'It's a natural way of looking younger and healthier, with an added sense of relaxation.' Just as exercise releases those mood-boosting endorphins, the same is true for facial stretches. Not only will you feel more positive and have increased energy, the relieving of tension in your face will reduce the pain from jaw tightness and headaches.
THE BENEFITS
✣ ANTI-AGEING
'Just as your body needs exercise to stay toned, the 57 muscles in the face and neck also need to be exercised,' Danielle explains. 'As they become stronger, the skin attached to the muscles is tautened, reducing lines.' The face yoga exercises encourage more oxygen to reach the cells of the skin, resulting in a clearer complexion. They also stimulate collagen production for tighter-looking skin. A study published in the health journal JAMA Dermatology found that 16women aged 40–67 who performed face yoga for 30 minutes a day for eight weeks, then three to four times a week for a further 12 weeks, looked three years younger by the end of the study.
✣ WELL-BEING
Danielle's workout, inspired by age-old techniques from India and China, promotes a sense of well-being through reducing muscle tension. According to Psychology Today, the act of concentrating on a specific pose while breathing deeply encourages the body to turn off the stress-response chemicals, and prevents the body from preparing for a fight-or-flight reaction by stopping fatty acids and sugar from entering the bloodstream, which are then converted into energy for the brain and muscles. In turn, this allows us to feel relaxed.
✣ REDUCES HEADACHES
When we're stressed, we often hold tension in our face. This can result in jaw clenching, headaches and frown lines. The boosting of blood circulation from facial exercises helps to ease this tension by increasing tissue elasticity, and by increasing the temperature of the soft tissues, muscle fibres can be loosened.
ARE THERE RISKS?
'All the exercises in the programme have been designed to be safe for everyone and all instructions are easy to follow,' says Danielle. 'If you have any health or skin issues, visit one of our one-on- one teachers to learn any modifications.' Danielle also advises that you consult your doctor first before using the programme if you have any serious health complaints, and that you always ensure you work to your own limit.
EXERCISES TO TRY AT HOME
1. Eyebrow lift
Place your two index fingers under the eyebrows. Very slowly, close your eyes and hold for 10 seconds. Repeat twice more. You should feel shaking in the upper part of your eyelids.
RESULT: Lifts and tones the eyebrow area, and avoids the development of hooded eyes.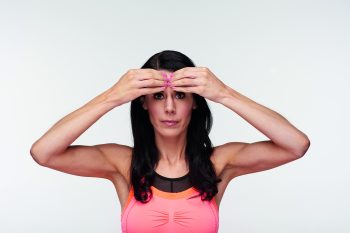 2. The lip tuck
Tuck your lips in and allow your lip corners to move up, then use your index fi ngers to smooth out any lines in the area. Hold the position. Keep lifting the lip corners and release and repeat a few times.
RESULT: Tones cheek and mouth muscles.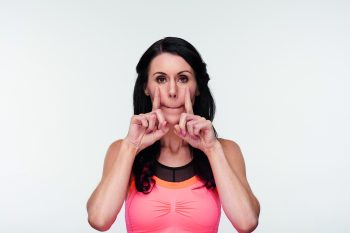 3. The 'V'
Put both middle fingers between the brows. Apply pressure to the outer corners of your eyes with your index fingers. Look up and move the lower eyelids upwards, making a strong squint. Relax, repeat six more times. Squeeze eyes shut for 10 seconds, relax.
RESULT: Reduces lines and wrinkles.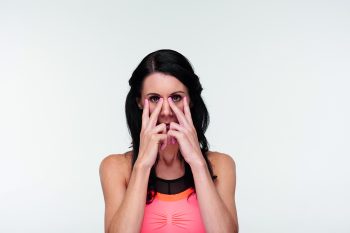 4. The giraffe
Stroke the skin of your neck down as you tilt your head back. Bring your head down. Repeat twice. Jut your lower lip out, place your fingers on your collarbone and point your chin upwards. Hold for four breaths.
RESULT: Helps tone and lift neck.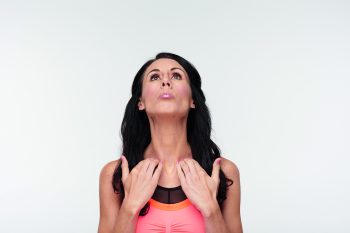 5. Smooth the brow
Place your fingers in the centre of your forehead and sweep outwards in horizontal lines. Repeat the move three times.
RESULT: Great for circulation, to boost collagen and elastin (to plump and fi rm the skin), and to help free up tension that can cause deep-set lines.

6. The gecko
Turn your head to one side, lifting your chin up and bring your tongue towards your nose and hold for 10 to 15 seconds. Come to the other side and repeat three times.
RESULT: This helps lift and fi rm the muscles on the side of your neck and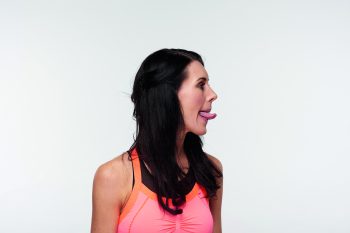 Is it better than BOTOX?
'Face yoga is a natural, non-invasive alternative,' says Danielle. 'I think it looks more natural. We should be able to look the best we can for our age, and have the knowledge to look after the health of our faces, just like with our bodies.'
ALSO SEE: