This potato salad is so creamy and dreamy! It's the perfect side dish to pair with a braai.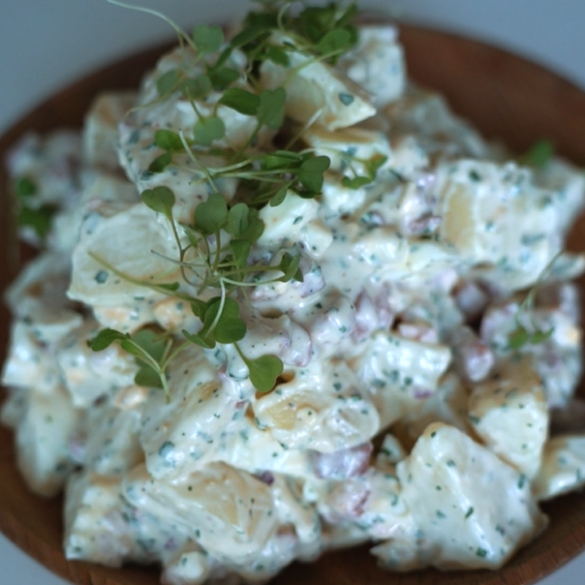 Ingredients
1 kg potatoes, peeled and quartered

250 grams diced bacon

1 cup mayonnaise

1⁄4 cup sour cream

1 tbsp chopped chives

1 tbsp chopped parsley

1 tbsp dijon mustard

1 tbsp lemon juice

2 tsp sugar or to taste

1⁄2 small red onion, finely chopped, chopped 3-4 eggs, boiled and peeled

Salt and freshly ground pepper to taste
Instructions
1
Place the cubed potatoes into a pot with salted water and place on a medium heat with the lid on. Boil for about 15-20 minutes or until al dente.
2
Drain the water and let it cool completely.
3
Cook bacon in a pan over medium heat for 5-6 minutes until cooked and crispy.
4
Combine mayonnaise, sour cream, herbs, mustard, lemon juice together in a bowl and mix until combined.
5
Combine cooled potatoes, red onion and egg together in a bowl and top with the creamy mayo mixture. Season well and mix.
Recipe shared by Food&Home.
ALSO SEE:
Feature Image: Food&Home