As much of fashion veers toward edgy and bold looks, Cottagecore stands firm in its softness
I was once that teenager who refused to wear anything with florals (let me be, it was a different era – one that was dominated by Tumblr and anything with an 'edgy' filter slapped over it).
Fast forward to adulthood and I couldn't think of anything more dreamy than my own Bridgerton moment, frolicking through a field in a flowy dress, picking flowers and maybe pitching myself for a Dior perfume advert (we know how much they love a good floral aesthetic).
But whether I was ready to trade my Doc Martens for summery sandals, or a good oversized T-shirt for a corset piece, I couldn't be sure. Like I do with most realms of fashion, I believe in making the fashion work for your style, not the other way around.
So, what do we need to know if we want to dip our toes in the fashion niche that is Cottagecore? Here are 5 tips:
1. The looser the better
Cottagecore has an obvious connection to nature. Whether it's one loose-fitting individual pieces or an entire dress that flows unapologetically, it's all about loose, free-flowing cuts. You want a loose button-up shirt that says 'I just came back from another exotic holiday' or an ankle-grazing skirt that says 'yes I go to the market every Sunday'.
2. Puff it up
Puffy sleeves or princess sleeves have snuck their way from Disney movies back onto the fashion scene. As we continue to explore our femininity in society, few pieces say it better than these statement sleeves. Not only do they give off an air of royalty, they're also comfortable. Comfortably royal? This is the fashion that gets it.
3. Minor floral detailing
Cottagecore is more than slapping on a few floral pieces and hoping for the best. It's an aesthetic that appreciates detail, so embroidered flowers, subtle accents and the like when paired with our above main characters will take you from overcooking it to getting it down to a tee.
4. Earthy tones or pastel shades
A lot of cottagecore looks capitalise on earthy tones (think soft greens or beiges). However, for those who love a little colour, pastel shades compliment the style perfectly and even better in some cases.
The real secret here is knowing what your skin tones are (warm, neutral or cold) so that your take on a look suits you best.
5.A cheeky sandal or heel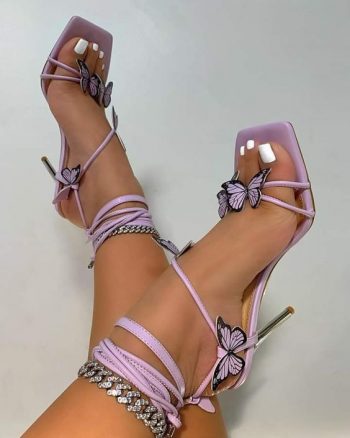 Cottagecore was made for wedge heels, summery sandals and platform heels. You can try sneak your sneaker into this look, but the result will leave you with the sense of something being missing. It's the sandal or heel, and even if you're more committed to your sneakers than any relationship, this is one must for the look.
ALSO SEE: 
Feature Image: Pinterest