This chocolate orange marble bundt is the ultimate showstopper!
INGREDIENTS
For the chocolate fudge swirl
30 g butter
100 g dark chocolate
30 ml double cream
For the cake
265 g caster sugar
Zest of 2 oranges
250 g butter, softened
1 tbsp vegetable oil
4 large eggs, beaten
375 g plain flour
1 tbsp baking powder
120 ml whole milk
25 g cocoa powder
To decorate
60 ml double cream
100 g white chocolate, finely chopped
100 g dark chocolate, melted
chocolate mini eggs
You will need
23 cm Bundt tin; a piping bag
METHOD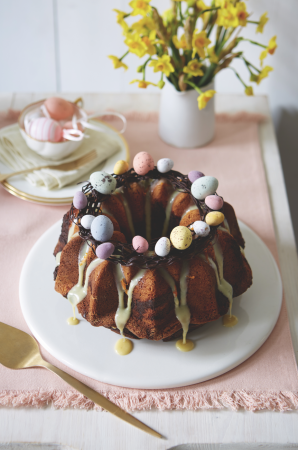 1. Heat the oven to 160 ̊C. For the 'swirl', gently melt the butter, chocolate and cream in a bowl set over a pan of simmering water. Set aside.
2. For the cake, add the sugar and zest of 1 orange in the bowl of a stand mixer and mix for 3–5 min. Add the butter and whip until fluffy. Add the oil and eggs, beating well after each one. Fold in the flour, baking powder and half the milk. Spoon half the mixture into another bowl, sift over the cocoa and fold in with the remaining milk.
3. Spoon alternate amounts of chocolate and plain mixture into the tin, along with spoonfuls of the 'swirl'. Mix the mixture with a skewer to create a marbled effect.
4. Bake for 40–50 min. Cool for 5 min in the tin, before turning out to cool fully.
5. For the drizzle, microwave the cream and white chocolate for 30 sec at a time until smooth. Let it cool slightly before pouring over the cake. Top with the remaining zest.
6. For the 'nest', fill a large bowl with ice and water, add the melted dark chocolate to the piping bag and cut a hole at the end. Pipe continuous rings of chocolate on top of the ice water. Leave to set. Place the 'nest' on the cake and add the chocolate eggs.
TIP: Create a makeshift piping bag by cutting a square out of baking paper and folding it into a cone shape. Staple the ends together to secure, then add the chocolate and fold the top edges over to close. Snip the bottom corner off to begin piping.
ALSO SEE EASY EASTER CREME BRULEE RECIPE