Earlier this week, almost two years since the first Covid lockdown was announced in South Africa, KWV's Cathedral Cellar celebrated the reopening of its events venue with an intimate relaunch. Cathedral Cellar is the heart of KWV, and the brand home of its premium wine series, the eponymous Cathedral Cellar wines.
A historic and architectural showpiece, Cathedral Cellar was built in 1930, and completed with a dramatic barrel-vaulted roof and stained-glass windows giving the impression of a grand cathedral. It is home to an impressive collection of massive wine barrels, with the capacity to hold 12 000 ℓ of precious liquid. The history of the South African wine industry has been intricately carved on some of these, adding an artistic edge to this remarkable space. It was formally opened as a private dining and events space in 2018, under the custodianship of KWV Ambassador Chef, Mynhardt Joubert. It immediately attracted a share of beguiling events, which quickly tipped this venue as "the most sought-after exclusive venue in the Winelands."
However, the Cathedral Cellar's journey was cut short on 23 March 2020, when South Africa's first lockdown was imposed, followed by a series of others, effectively banning events and gatherings.
"With new health regulations in place, and with government set to move away from the National State of Disaster, we thought this is an appropriate and positive time to relaunch Cathedral Cellar as an events venue. It is also appropriate to highlight the spirit of its Cathedral Cellar wines, which embraces change as a form of story – an essence so clearly felt and reflected in its brand home, where the stories, but also the challenges, of SA wine are detailed on a series of carved barrels," said Cathedral Cellar Brand Manager, Tanya Blokdyk.
A celebration of purple
Aptly titled 'Culinary Journey in Purple', the tone and theme of the day highlighted the distinct purple tones in Cathedra Cellar's brand language, while also being an appropriate nod towards the 2022 Pantone Colour of the Year, Very Peri – a purple hue with distinct lilac and lavender undertones.
This pantone resembles creativity and displays an inquisitive and intriguing spirit. Pantone announced: "Very Peri is a symbol of the global zeitgeist of the moment and the transition we are going through. As we emerge from an intense period of isolation, our notions and standards are changing, and our physical and digital lives have merged in new ways. Very Peri helps us embrace this altered landscape of possibilities, opening us up to a new vision as we rewrite our lives".
Cathedral Cellar's Ambassador Chef, Mynhardt Joubert, unquestionably embodies this creative spirit, and Cathedral Cellar's wines, with their augmented reality labels, aptly illustrated how the physical and digital have merged during a period that Tanya noted as being "a period of isolation, but not stagnation."
Purple pops of inspiration
Chef Mynhardt prepared a paired menu with purple Parisian figs as inspiration and base to each course. Pancetta-wrapped purple figs were served with KWV Centenary MCC, charcoal ciabatta and fig butter with Cathedral Cellar Sauvignon Blanc, 'Cacik' or Turkish Soup with fresh figs with Cathedral Cellar Chardonnay, rolled lamb with figs and asparagus with Cathedral Cellar Triptych, and finally, Italian chocolate tart with fresh figs and dried fig meringue with Cathedral Cellar Pinotage.
Cathedral Cellar Chief Winemaker, Justin Corrans, said: "Today again beautifully highlighted the food-pairing and versatility of Cathedral Cellar's wines. Cathedral Cellar wines are made with the multiple-region approach, meaning we are able to source the best grapes, from the best regions for these wines. It is an approach which contributes to their award-winning quality, but it also gives them a unique and distinct character, which was so eloquently illustrated paired with Chef Mynhardt's dishes."
"We are overjoyed to announce that events, in this sought-after space, can now be booked again," concluded Tanya.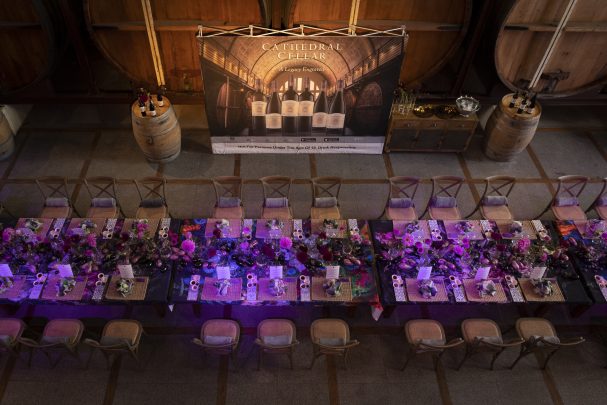 About Cathedral Cellar
Cathedral Cellar is a premium wine portfolio and events venue by KWV. The wine portfolio includes the Cathedral Cellar Cabernet Sauvignon, Cathedral Cellar Shiraz, Cathedral Cellar Triptych (a red blend), Cathedral Cellar Pinotage, Cathedral Cellar Chardonnay and Cathedral Cellar Sauvignon Blanc. The labels depict the Cathedral Cellar with beautiful copper line drawing and honours the cellar's most impressive feature: its 32 'stukvats' (barrels) which measure approximately 3 meters in circumference, some of which tell the stories of the South African wine industry with intricate carvings. It is one of the first and only wine brands in South Africa to embrace augmented reality, which allows users to scan its wine labels for an immersive, 'living wine labels' experience via the LABELinmotion app.
About the Cathedral Cellar venue
Chef Mynhardt's events in Cathedral Cellar are characterised by their fine balance between the bold and the understated: think bright colours counterpoised with foliage, chandeliers, and French linen tablecloths set with cream porcelain plated with heritage-inspired cuisine. Enthused by the creative, Chef Mynhardt thrives on working closely with his guests to create original and truly captivating events. This sought-after space can be booked for groups of 50 up to 300 by visiting www.mynhardt.co.za.
For more information, call 0760331839 or send an email to [email protected]
ALSO SEE EXPLORE THE LIGHT HOUSE BOUTIQUE HOTEL