Bags of Bites have created the perfect cookies, rusks and crackers for a healthy lifestyle.
The Naturally Loaded range uses ingredients to produce exceptional quality creating the perfect companion to your morning coffee, afternoon cappuccino or even dessert wine.
"Our aim has always been to remain front runners in innovation and product development especially following the latest health trends in wheat and sugar free options thus the Naturally Loaded range was born. From a management perspective, we are not only driven by manufacturing delicious biscuits but understand the importance of job creation and empowering others who have had no previous training or skills, giving them a sense of belonging and worthiness." says Ryan Jossel, Director at Bags of Bites.
Their new range is the perfect snack for any occasion, and the best part? Certain variants are wheat, nut, and gluten free with no added sugar, but still so yummy – so it really hits that sweet spot.
The new range includes five variants:
Choc & Ginger clusters
Coconut & Seed rusks
Oat & Cinnamon crunchies
Savoury Date & Rosemary crackers
Choc chip cookies
1. Almond & Seed Granola
A combination of Oats & Almonds toasted with Coconut oil & sweetened with Date Syrup, Cranberries and Raisins. Delicious served with yoghurt or your choice of milk. This is perfect for breakfast! This product is Vegan & Wheat free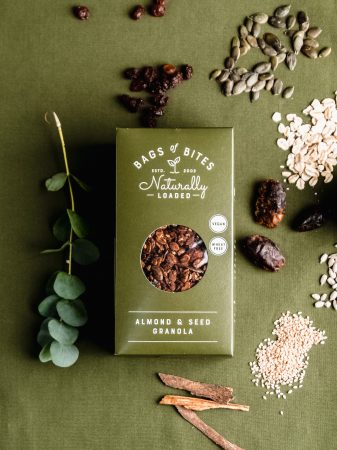 2. Choc & Ginger Clusters
Oats, Cocoa and Ginger make this a perfect pick me up with afternoon tea.  Vegan, Wheat free and Refined sugar free, Nut Free
3. Vegan Choc Chip Cookies
A guilt free Choc Chip Cookie made with seed flour and 55% dark chocolate. Vegan, Wheat Free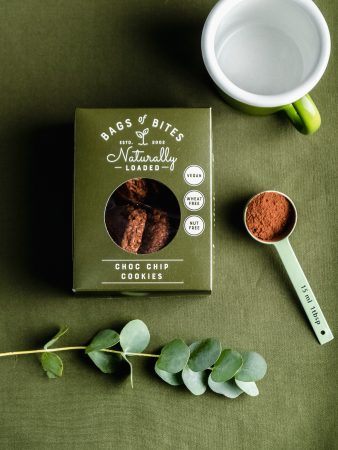 4. Coconut & Seed Rusks
The perfect accompaniment to a warm beverage any time of day. Made with seed flour, coconut & sweetened with coconut sugar. Vegan, Gluten Free, Refined sugar free, Nut free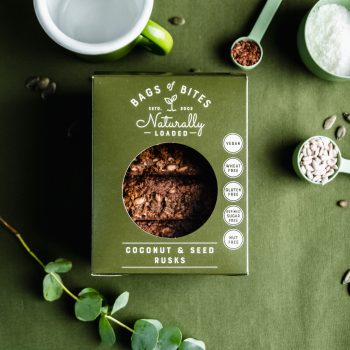 5.  Oat & Cinnamon Crunchies
Oaty & crunchie just as the name says with a hint of cinnamon. Vegan, Wheat Free, Refined sugar free, Nut free
The proof of perfect ingredients is in the tasting, so dunkers beware – the Naturally Loaded range is addictive. Variants retail between R72.99 – R139.99 and are available at Wellness Warehouse, Buy Fresh and Dis-chem.
For more information, visit the Bags of Bites website: www.bagsofbites.co.za and follow their social media platforms for further updates: Facebook: @bagsobites | Instagram: @bagsofbites