Jaguar's E-Pace is the ultimate premium compact SUV, and it comes in an electrified form.
Jaguar's E-Pace is a mainstay in the British marque's SUV lineup. A heritage running 80-years strong. Jaguar has become synonymous with style and grace. The latest Jaguar models embody the Art of Performance, the E-Pace is a perfect example of artful design meeting dynamic performance.
Affectionately dubbed the 'baby' of Jaguar's SUV range this cub is every bit as athletic and powerful as its bigger siblings, and manages to overthrow its fiercest rivals in this highly competitive segment.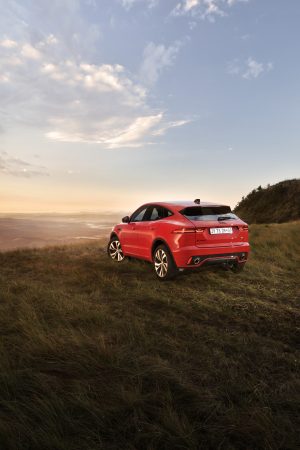 Heritage is a key design driver within the Jaguar range. The Jaguar Leaper and Growler symbols are as iconic today as they were in 1935, the Growler on the bonnet has progressed to a fierce Jaguar chrome roundel sitting proud and center in the new mesh-design grille flanked by the new all- LED headlight design with the 'Double J' daytime running lights. Upgrade to the Pixel LED lights and the vehicle uses cameras to automatically dip beams and adapts light patterns to account for road signs and traffic. Prefer something a little racier? All E-Pace models can be optioned with the Black Exterior Pack that finishes key exterior elements in Narvik Black. 
The cabin walks a line between safe and cocooning, airy and optimal visibility.  The interior design language is simple yet focused, all attention drawn to the new curved 11.4-inch HD touchscreen central infotainment unit featuring the latest Pivi Pro system. The glass touchscreen has two coatings, one to minimise glare and the other to make wiping away fingerprints easier. The simplified menu structures allow drivers to access, or view up to 90 per cent of common tasks from the homescreen in two taps or less, resulting in the driver taking their eyes off the road for less time. Connected features include Google and Microsoft Outlook calendar integration enabling the driver to view work diaries and even join important calls through the hands-free system.
It's a thoroughly digital car, the new 15W wireless charging base is housed unobtrusively near the newly designed Drive Selector, itself finished in a 'cricket-ball' stitch as a nod to it's British heritage and craftsmanship. Nanoe technology is the assurance that occupants can breathe easily within cabin. The E-Pace has the latest air ionisation technology that's activated by pressing the 'Purify' button on the touchscreen, and designed to remove allergens in conjunction with air filtration system that can capture particulate matter as small as PM2.5.
The low-slung seats give reassuring support and a sporting impression without compromising on comfort for daily use. Finished in luxurious soft-touch fabrics, and metallic accents for speakers, air vents and dials it enhance the artful design of the premium interior. Nods to the brand's multi-layered history are subtly placed throughout the cabin from the embossed Jaguar Leaper motif on the headrests to 'Est. 1935 Jaguar Coventry' upholstery tags, the heritage is proudly displayed in the subtle details. 
A good compact SUV is all about everyday life, a lost priority in most family cars, and a discipline that's un-mastered as yet in most SUVs. Jaguar's second-generation Activity Key, worn as a bracelet, is developed with everyday life in mind and the busy family. The bracelet can be used to lock, unlock and start the E-Pace without the need for a conventional key fob, and has an incorporated watch with a battery life of seven days between charges.
Originally offered with the range of 2.0-litre four-cylinder Ingenium petrol or diesel engines, the new E-Pace adds the latest 1.5-lire Ingenium three-cylinder plug-in hybrid (PHEV) to the lineup for the P300e model. This engine produces 147kW while an electric motor adds an extra 80kW bringing total power to 227kW and 400Nm. Default operating mode is in Hybrid, though can be moved over to full EV. The PHEV battery can be fully charged between 30 minutes – 5 hours, a full charge returns a 55-km all-electric range which means you could get to a from to and from work, of 30.2km in EV mode without requiring a recharge.
Simply put the Jaguar E-Pace is stylish without trying too hard, compact without being cramped and innovative without being overcomplicated. Above all, it's the class of the field in terms of driving dynamics – responsive, agile; it goes down a road like no other compact SUV. Jaguar have managed to 'read the room' and done a superb job of moving the compact premium SUV game on that bit further with the addition of the P300e, while feathering a very comfortable niche all of its own. The E-Pace is competent; it's controlled and confidence inspiring.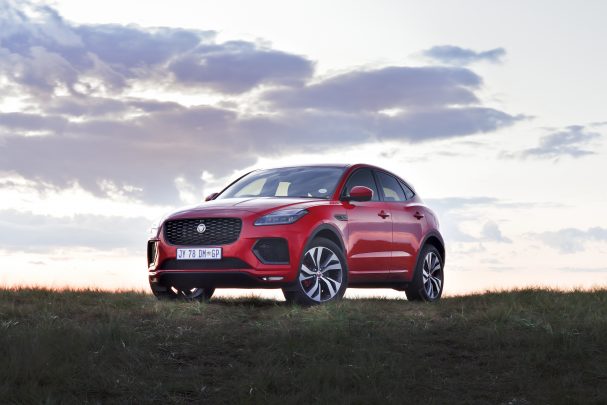 New E-PACE pricing
E-PACE R-Dynamic S D200 R868,000
E-PACE R-Dynamic SE D200 R898,600
E-PACE R-Dynamic HSE D200 R938,800
E-PACE R-Dynamic S P250 R927,500
E-PACE R-Dynamic SE P250 R958,100
E-PACE R-Dynamic HSE P250 R998,300
E-PACE R-Dynamic S P300e R1,165,500
E-PACE R-Dynamic SE P300e R1,196,100
E-PACE R-Dynamic HSE P300e R1,236,300
E-PACE 300 SPORT P300 R1,046,900
All prices include VAT but exclude CO2 tax.
Visit www.jaguar.co.za for more information, or to book a test drive of the new E-Pace
[Article supplied via Jaguar]