This asparagus quiche not only looks impressive –we can assure you that it tastes just as good!
INGREDIENTS
For the Parmesan pastry
50 g Parmesan cheese, grated, plus a little extra, to garnish
225 g plain flour
140 g cold unsalted butter, diced
For the filling
3 free-range eggs
175 ml double cream
150 g fine asparagus, blanched and cooled
125 g Gruyère cheese, grated
You will need
20 cm tart tin, lightly buttered; greaseproof paper; baking beans
METHOD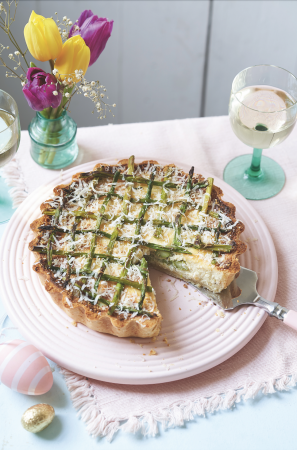 1. Heat the oven to 200°C. Rub the Parmesan, flour, butter and a pinch of salt together to resemble breadcrumbs. Add 4 tbsp ice water and bring together to form a dough. Wrap in cling film and chill for 30 min in the fridge
2. Roll out the dough to 4 mm and carefully line the tart tin, pushing the pastry into all the crevices. Allow the pastry to overhang the edge. Prick the base with a fork, line with greaseproof paper, fill with the baking beans and rest for another 30 min in the fridge.
3. Bake for 15 min, then remove the beans and greaseproof paper. Bake for a further 5–7 min until the pastry is lightly golden. Trim off the excess pastry around the edge.
4. Reduce the oven temperature to 160°C. For the filling, mix together the eggs and cream, and season with black pepper. Roughly chop a third of the asparagus and add to the mixture.
5. Carefully pour the cream mixture into the pastry case, scatter over the grated Gruyère cheese and bake for around 30 min until cooked and golden.
6. Meanwhile, take the remaining asparagus and create a lattice effect by weaving each stem together. Place on top of the quiche and bake for a further 10 min. Grate over some fresh Parmesan before serving.
Serves 10 • Ready in 1 hr 40 min, plus chilling
ALSO SEE TOMATO, SPINACH AND THREE-CHEESE LASAGNE