These super succulent lamb burger patties are made using an ingenious hack. Topped with smashed avocado, tzatiki, caramelised onion and veg, these burgers make an epic midweek meal with all the vibrant flavours of Greece.
Let's get into it: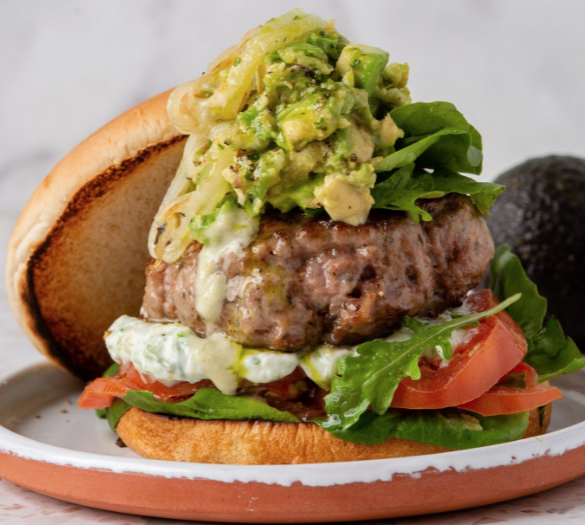 Ingredients
500 g Greek-style lamb sausages

1 large onion, finely sliced

4 hamburger buns, halved and toasted

4 tbsp hummus (learn how to make your own here)

2 small avocados, peeled and stoned

Salad leaves or butter lettuce

2 ripe tomatoes, sliced

Tzatziki, to serve
Instructions
REMOVE lamb sausage meat from the casing. Discard the casings and divide the meat into 4 equal portions. Roll the lamb sausage meat into patties and flatten slightly. Preheat a non-stick frying pan over medium heat and gently cook the lamb patties until golden brown and cooked through. Set aside and keep warm.
IN the same frying pan, add the onions and sauté until golden brown.
TO assemble, spread a tablespoon of hummus onto each hamburger bun, and top with lettuce and tomato, and a dollop of tzatziki, followed by the lamb patties and top with mashed avocado and the fried onion.
Recipe supplied by South African Avocado Growers' Association (SAAGA)