Fellow serial gift-wrappers, I ask you to rally and consider one important thing before wrapping any prezzies this year. Instead of opting for handfuls of plastic ribbon, sticky tape, and rolls upon rolls of wrapping paper, let's dip into the world of sustainable gift-wrapping this festive.
This isn't only kinder to the planet, but the sentimentality that goes into wrapping a gift sustainably, is more personable than any glossy wrapping paper ever was.
From picking out pretty sprigs of flowers to use as decor to choosing the perfect block of fabric for your furoshiki parcel, we've got all the sustainable wrapping tips you could ask for. Let's dive in:
Furoshiki
Furoshiki orignates from Japan. Furoshiki are squares of fabric used for everything from storing and wrapping things to gifting items.
View this post on Instagram
Furoshiki parcels are varied in size and can range from matchbox sized gifts wrapped in handkerchiefs to items wrapped in large meters of fabric.
View this post on Instagram
View this post on Instagram
The best thing about these, is that you can mix and match fabric according to who you're gifting. If you're gifting the beauty guru, wrap her prezzies in a beautiful silk scarf she can add to her accessory wardrobe, or gift the wine-lover a bottle wrapped in a tea towel, for the kitchen.
The thoughtfulness behind wrapping a gift furoshiki style, will make any excited gift recipient feel special!
Forage for the accents
Instead of buying plastic ribbons and bows, stroll off into the gardens and pick a few pretty flowers or sprigs of herbs to add as accents to your wrapping.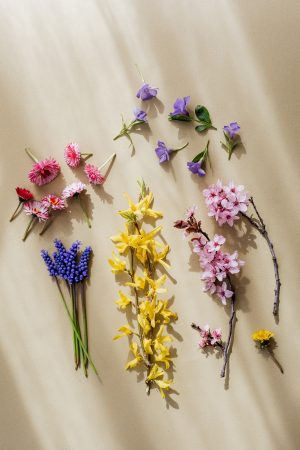 Dried flowers and sprigs of herbs like Rosemary or Lavender add a special touch to any Christmas prezzie. You can get creative here, by picking a bunch of herbs straight from the garden, drying them, and attaching them to your gift in a herbal posy.
Play with citrus and cinnamon
Oranges and cinnamon are synonymous with Christmas! Grab yourself a few sticks of cinnamon from your local spice shop (or pantry) and a couple of oranges.
Cut your oranges into 3/4 cm slices, lay them out on a baking tray with baking paper on it, and bake in the oven at 80 C for three to four hours, flipping every hour.
Once your slices are out of the oven and have dried, they're ready to be ornate decor for your presents.
String them along a piece of thread and wrap around your gift, or use your dried citrus slices alongside sprigs of cinnamon for a natural accent where your bow would be.
Purchase a plantable card
Instead of giving a card that, let's be honest, may end up in the bin, why not use these beautiful greeting cards or gift tags? They're made with recycled consumer paper and embedded with different sorts of seeds.
Once the recipient is done with their card, they can chuck in into the garden to grow their own flowers, herbs or vegetables.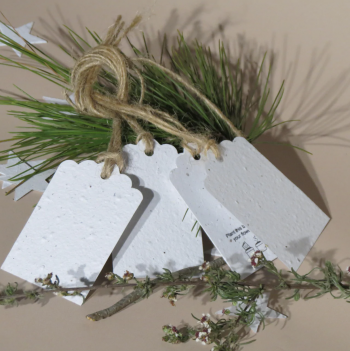 Repurpose
Re-use, people! I keep every gorgeous gift box, paper (when not destroyed via sheer excitement) and gift bag I receive, because I reuse them. Come Christmas next year, you might just receive the very same gift bag/box you gave me the previous year. That's what I call 'circular gifting'. Why not make it a tradition?
Don't spend money on purchasing new packaging, rather save and be friendlier to the planet by re-using what you can, even if you need to give it a bit of a facelift.
Bunch it in a basket
Listen, we all love a basket here. We need them for everything. Picnics, laundry, cables, fruit, beauty items, toilet paper, craft items, doom piles, blankets, cats…the potential of a woven basket is endless, and this is a statement I'll stick by.
Why not make part of the gift the packaging by purchasing a hand-woven basket like this Grey Basket with a Hemp Handle from Basketly? Cute!
The sentimental stitch
Nothing screams sentimental like setting apart three hours to embroider someone's squiggly name onto the furoshiki package you're gifting. Embroider a personal message or symbol onto a piece of fabric, which you will then use for your wrapping.
Alternatively, repurpose one of the hundreds of totes you have lying around, by embroidering a little festive something-something onto the face of the bag.
Not only will this make the cutest packaging for a present, but a worthy recipient will really cherish a hand-stitched garment that you put thought and effort into.
ALSO SEE:
It's time to get into the festive spirit, sustainable minimalist style!
Feature Image: Instagram / @wrapwithnocrap