This Chicken wing with broccoli rice is the perfect pick for a low-carb lunch or dinner made quick and easy. Perfect for when you're not sure what to cook – let's get to it!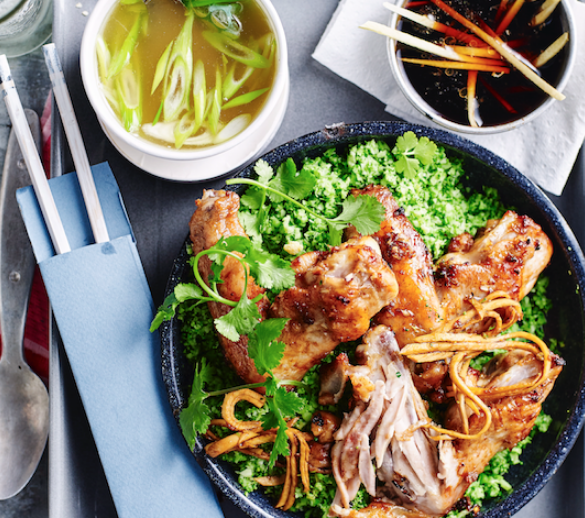 Ingredients
2 tbsp Soy sauce

3 Garlic cloves, minced

2 tbsp Finely chopped fresh lemongrass

1 tsp Caster sugar

1 tbsp Oil

2 kg Chicken wings, tips removed

20 g Fresh ginger, cut into thin matchsticks

500 g Broccoli, finely chopped

⅓ cup Loosely packed fresh coriander

GINGER DIPPING SAUCE

20 g Fresh ginger, cut into thin matchsticks

1 Garlic clove, minced

1 ½ cups Chicken stock

1 tbsp Soy sauce

SPRING ONION BROTH

2 cups Chicken stock

2 Spring onions, thinly sliced on the diagonal
Instructions
PREHEAT the oven to 200°C. Oil two large shallow oven trays and line with baking paper.
COMBINE soy sauce, garlic, lemongrass, sugar and oil in a bowl. Add chicken and toss to coat in mixture. Divide chicken, in a single layer, between oven trays; top with ginger. Roast for 40 minutes or until chicken is browned and cooked through. Baste with cooking juices twice during cooking.
PROCESS broccoli, in batches, until finely chopped and resembles rice grains. Blanch in a pot of boiling water for 20 seconds; drain. Spread on paper towel to dry; season to taste.
POUR warm broth into serving cups. Serve broccoli rice topped with chicken, coriander and dipping sauce.
 GINGER DIPPING SAUCE
COMBINE all the ingredients together in a bowl.
SPRING ONION BROTH
HEAT stock in a small saucepan until warm; stir in spring onions.
TIP: You can make your own stock for the spring onion broth using the wing tips, ginger and spring onion offcuts. Place everything in a pot with 1 litre cold water; simmer for 15 minutes and skim any scum from the surface. Strain through a fine-mesh sieve.