Craving something sweet and simple to make? Try these vegan doughnut holes with blueberry icing. Soft and bouncy, just how doughnut should be!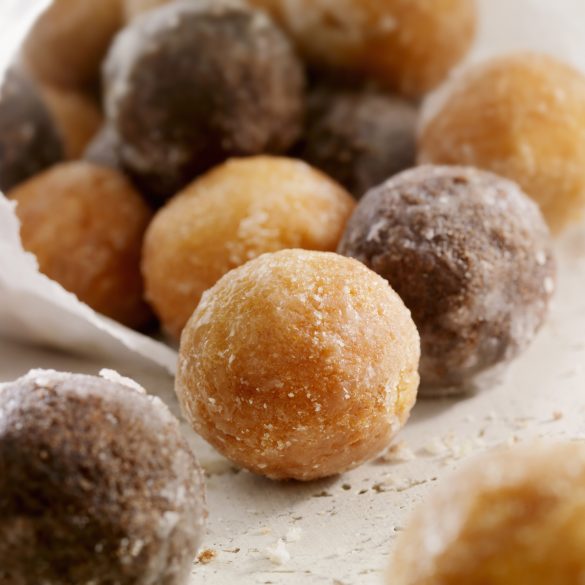 Ingredients
For the doughnut holes

4 tsp dry yeast

½ cup warm water

¾ cup unsweetened almond milk

80 grams vegan margarine spread, melted

⅓ cup caster sugar

1 tsp sea salt

3 cups flour

Vegetable oil, for deep-frying

For the blueberry icing

1 ½ cups icing sugar

½cup blueberries

2 tsp lemon juice

2 tsp vanilla essence
Instructions
Doughnut holes
COMBINE yeast and the warm water together in a bowl. Stand for 5 minutes or until frothy.
COMBINE yeast mixture, almond milk, spread, sugar and salt in a bowl of an electric mixer fitted with a dough hook. Add flour, beat until a smooth dough forms. Place dough in a large oiled bowl and cover with plastic wrap. Stand in a warm place for 1 hour or until doubled in size.
LINE an oven tray with baking paper. Using a lightly floured knife, cut into 32 pieces. Roll each piece into a ball; place balls on a tray, 2 cm apart. Cover with oiled plastic wrap. Stand in a warm place for 30 minutes or until the dough has risen and is light.
FILL a pot one-third full with oil; heat over medium heat to 180ºC. Deep-fry doughnuts, in batches, for 3 minutes or until golden and cooked through. Drain on a paper towel.
Blueberry glaze 
SIFT icing sugar into a bowl. Add remaining ingredients and  mash blueberries with a fork. Stir until well combined. Strain glaze through a sieve.
POUR over doughnuts. Serve doughnuts warm or stand until cooled.
Notes
FOOD TEAM TIP: You could use soy or coconut milk instead of almond milk. These doughnuts are best served on the day they are made.
ALSO SEE:
W&H reading nook: 5 cookbooks we're loving
Feature Image: Getty