Spice up your BBQ. This Pork Chops with Strawberry Salsa is perfect for an easy and delicious meal with minimal fuss & all the flavour!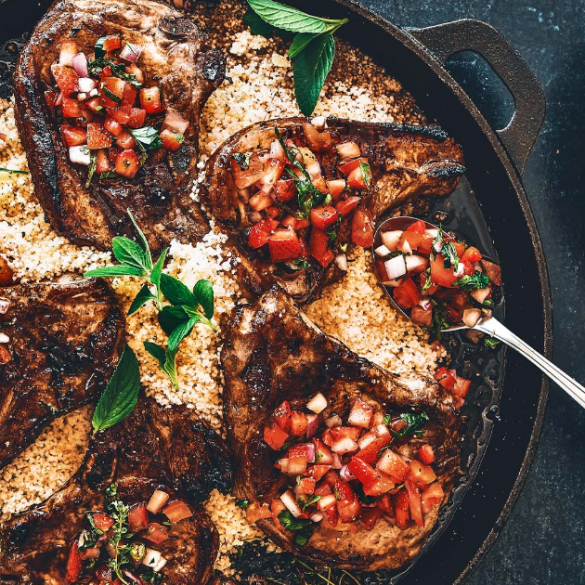 Ingredients
6 pork loin chops, skin removed and fat trimmed
salt and pepper to taste
a few sprigs of fresh thyme or rosemary
30ml olive oil
15ml BBQ basting sauce (your favourite)
STRAWBERRY SALSA
200g fresh strawberries, chopped
10ml castor sugar
10–15ml balsamic vinegar (or to taste)
4 tomatoes, deseeded and chopped
30ml fresh mint leaves, roughly chopped
30ml Italian parsley, roughly chopped
1 small red onion, chopped
1 chilli, chopped (optional)
Instructions
1. To prepare the salsa, mix all the ingredients together and allow to marinate while you prepare the chops. Remember to season lightly with salt and pepper.
2. Season the chops generously with salt and pepper, mix the olive oil and fresh herbs and rub the chops with the flavoured oil until coated.
3. Heat a thick-based frying pan and sear the pork chops for 3 minutes per side or until well browned. Brown the fat by holding the chops upright with a pair of tongs. Do the same on the bone side.
4. Brush the browned chops with the basting sauce on both sides and fry for another minute or two until caramelised, sticky and just cooked through. Allow the meat to rest for a few minutes.
5. Serve the juicy chops generously topped with fruity salsa, and couscous flavoured with lemon and olive oil.
Recipe provided by SA pork.
ALSO SEE:
Leftover wine? Don't pop the cork back! Do this instead
Feature Image: Supplied