There's no question that wineries are a popular South African attraction. Who doesn't enjoy sitting back and enjoying views of the vineyards while sipping on the farms offerings? But, did you know that in 2021, the percentage of a black-owned, all female winery still makes up the smallest percentage of the countries many wineries? We caught up with Lebohang Sekhokoane, who is not only one of SA's up-and-coming winemakers but also the owner of Winnery Wines, a business that is inspired by and pays and oh-so-sweet tribute to her grandmother.
1. What's your story, tell us about yourself?
I grew up in a small town called, Randfontein based in Gauteng. I was always keen to go into business but I could never figure out what my passion was, as I am a mining engineer by profession. After completing my studies, I branched off into the finance and investments sector. Truth be told, deep down, I am still a girl who works in investments with a focus on the mining sector. I think it has to do with growing up in a mining town. I wanted to make a difference in my community and get into that specific space. However, I also always wanted to get into something that's solely for me and do something that I love. That was when I started Winnery Wines. It wasn't about my love for wines but rather about my love for my grandmother, Winnery.
2. What inspired you to become a winemaker?
My grandmother, Winnery Sekhokoane [95] was diagnosed with diabetes about 15 years ago, she had to cut out many things and she has a big sweet tooth. Growing up I would visit her and she'd always bring out cookies, juice, and sweets, particularly the Sparkles sweets [laughs]. I knew exactly what I was going to get each time I visited her. My grandmother also enjoyed her wine. It was something she cut out after her diabetes diagnosis. But, after some research (while I was still at varsity) I learned that she could still consume wine at a very moderate level since it's not the sweetest beverage out there, and that thought just stuck with me. When I started working I got into researching everything wine-related and how I could start this business, while also honoring my grandmother and her love for sweet things. I wanted to honour her somehow and when I was looking for a name for my passion project, I found the way to do it. I decided to name my wines after her. Not everybody likes wine but if you're restricted in terms of your health, Winnery is one of those beverages that you can still enjoy.
3. When was Winnery Wines established?
Officially the business was registered this year [2021]. Apart from all of the dead ends, we started the journey in 2019, but the lockdown last year delayed a few things but once I ticked off the boxes last year we kicked off.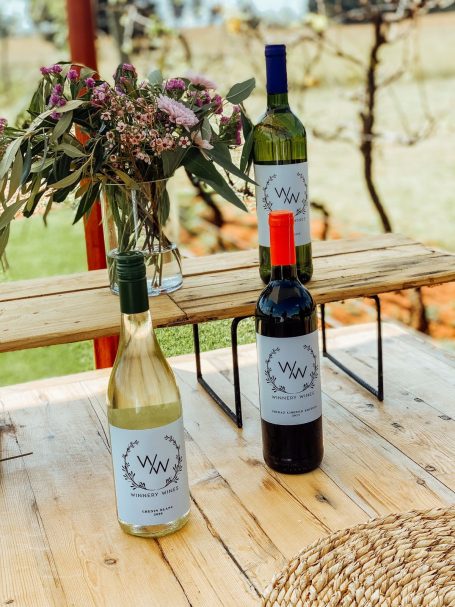 4. Winnery Wines is 100% black and female-owned, was it a tough journey considering that it's a predominately male-dominated industry?
It was really difficult. Firstly because, the people that I interacted with, with regards to my profession, were mostly people in the mining industry, I didn't have anyone that I could talk to in terms of my passion, they wouldn't understand and I didn't know anyone in the industry. I eventually started going to wine events but still, there were only dead ends. Then I discovered some websites and got introduced to other 100% black wineries. Some of them were 100% female and black-owned but the majority of them were just putting their label onto pre-owned wine manufacturers. It was disappointing to find that not many people were willing to help black, female-owned wineries, it was very difficult to put myself into the conversation but after knocking on many doors, one finally opened up for me.
5. What was the process like?
I didn't have a background in the wine industry, so I didn't know where to start. I spent a lot of my time at markets where I spoke to wine producers and other people in the sector and so I flew up and down to Cape Town frequently because I'm based on JHB. I had a lot of manufactures offering me to put my label on their wines until I met someone who I spoke to, who actually listened to my story. I wanted to be intricately involved in the process and not just want put my label on a wine bottle. I wanted to be a part of every aspect of the creation process, from the taste to the style of the bottle. I had to learn and understand the production of wine and everything that came with it. Just gaining access into the industry, alone was a struggle. Based on my experience, the bulk of what's going on is that people are using their faces on wines but not actually owning them. I had to be strong and push forward because I did not want to just be a face to an already owned brand.
6. Do you have tips for women who want to get into the industry?
Educate yourself. Understand what you're getting yourself into, the business and the industry because that makes the process go by so much faster. Learn about the sector and understand the conversations that those in the industry are having. Don't be afraid to put yourself out there, there is a market that is waiting for you.
7. Tell us more about your wine?
Our wines have a sweet fair, although it is a dry-styled wine. We have four styles, two white wines, and two red wines; Chenin Blanc, Shiraz, and our house blends. Specifically, Chenin Blanc is the white wine and Shiraz is the red wine. Our white house blend is a blend of Sauvignon Blanc and Chardonnay and our red house blend is a blend of Merlot and Cabernet Sauvignon. Everything is locally sourced, from the grapes to the packing, even down to the design of the label. The winery is based in Gordon's Bay, so the grapes are all grown on the farm, the manufacturing facility based here as well.
8. What's special about your wine?
What differentiates Winnery Wines from other brands is that our wines are sweet. You don't have to get used to the taste of my particular wine because it has that immediate sweet note. Lots of people will say that a dry-styled wine is not supposed to be sweet but that's where we break the barrier.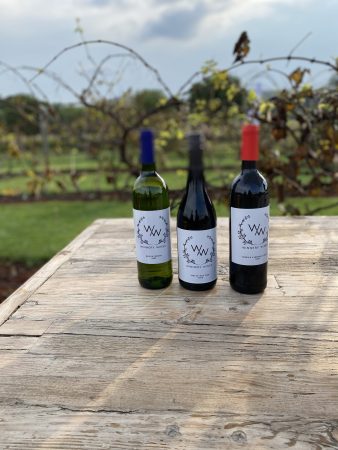 9. Do you have a favourite wine?
In terms of brands, Winnery Wines are my favorite, and that's why I have the Chenin and the Shiraz. Those are my two favorites. The Shiraz is my favorite red and the Chenin is my favorite white wine.
10. Do you have any food pairing tips?
If you browsed through my website, in my story I explain how I acquainted myself with wine. Once you educate yourself you seem to get that tunnel-vision way of thinking. Tradition would say that you should pair white wine with white meat and red wine with red meat but I would say, pair it with love. This is a young brand and I don't want it to be rigid, snooty, or traditional. This is fun. Do what you want with it. As long as you love the brand, you're going to love whatever you pair it with.
11. Do you have plans to expand beyond SA?
Definitely, but I haven't really landed in terms of import and export. I want to do more research in order to understand the other markets a bit better. I know that wine is loved worldwide, but because we're such a small and new business I wanted to understand the South African market first. What I'm really focused on at the moment is expanding my distribution channels, currently we have online sales and are distributed in several markets. I'm also in conversation with a restaurant and event venues at the moment.
12. Where can we purchase your wine?
You can purchase Winnery Wines at our online store: winnerywines.co.za. We deliver anywhere in SA, delivery takes between 1-3 days maximum.