This alternative regular burgers really hits the spot!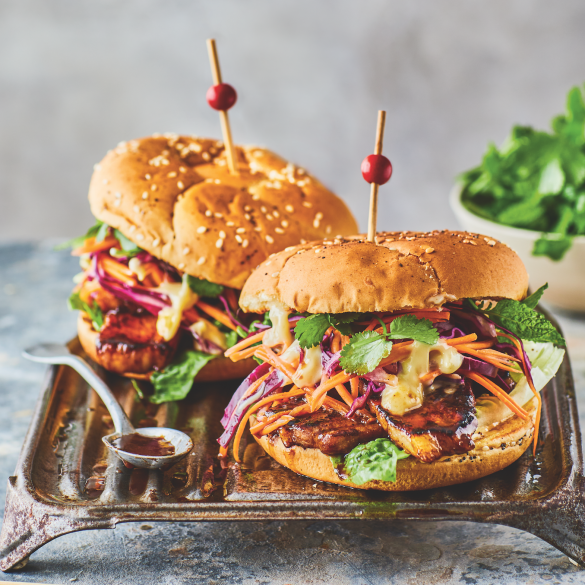 Ingredients
8 pork belly strips (about 600 g)

2 tbsp dark honey

2 tbsp soy sauce

11⁄2 tbsp hoisin sauce

1⁄2 tbsp rice vinegar

1 tsp oyster sauce

1⁄2 tsp Chinese five-spice powder

1⁄4 tsp white pepper

Brioche burger buns, to serve Mayonnaise, to serve

1 little gem lettuce, leaves separated

Coriander, mint and basil (optional)

For the pickled vegetables:

100 g carrot, grated

1 small red onion, thinly sliced

100 g red cabbage, shredded

1 tbsp caster sugar

1⁄2 tsp salt

11⁄2 tbsp white wine vinegar

1 Cut the pork in half crossways and put in a bowl.
Instructions
1 Mix the honey, soy sauce, hoisin, rice vinegar, oyster sauce, Chinese five-spice and white pepper in a bowl. Add to the pork, stir, cover and marinate for 1 hr.
2 Put the carrot, onion and cabbage in a bowl. Add the sugar, salt and vinegar, and stir. Set aside for 1 hr, then drain.
3 Heat or light the barbecue. Remove the pork strips from the marinade. Put the marinade in a saucepan. Cook the pork on a hot barbecue for 3 min each side until cooked through. Transfer to a clean bowl. Heat the marinade over a medium heat and simmer for 2–3 min until thickened. Add to the steaks and stir well.
4 To serve, toast the brioche rolls and spread with a little mayonnaise. Fill with layers of pork strips, pickled vegetables, lettuce leaves and herbs, as you wish.