This year, celebrity chefs and popular cookbook authors Mokgadi Itsweng and Jenny Morris have collaborated with Juicy Delicious to curate and compile an ultimate 2022 festive food menu for the holiday season. 
It's a special collection that highlights the versatility of the season and South Africa's bounty of peaches, nectarines and plums that are prized in overseas markets.  From the freshest of salads to a redolent take on a classic, baked pudding, these recipes will inspire you to add unforgettable colour, texture, flavour, succulence and crispness to your festive meals.
These 'plumlicious' Christmas parcels are the perfect package for Christmas treats made simple.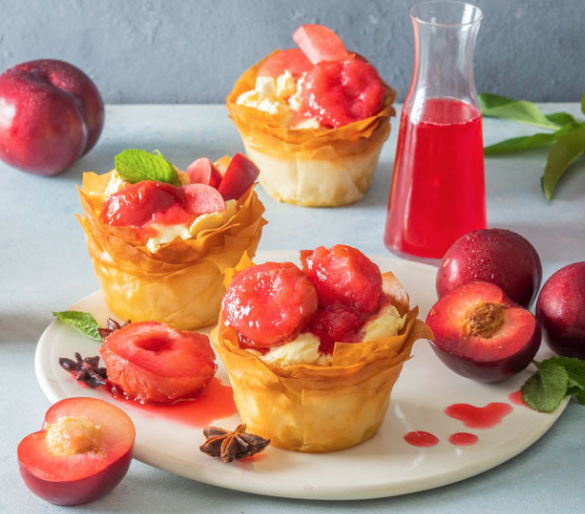 Ingredients
Pastries

250 g filo pastry

Melted butter

Filling:


12 medium-sized very firm plums halved and stoned

1 cup caster sugar

2  Tbsps lemon juice

5 Tbsps water

2 whole star anise

1 cinnamon stick

Peel of 1 small orange
Instructions
Preheat the oven 180 °C.
Take the pastry out of the fridge and keep it covered so that it does not dry out.
Butter a 12 hole muffin tin.
Unroll the pastry and cut the layers into 12 squares with a sharp knife. (36 small squares)
Brush each square with melted butter.
Line each muffin cup with a square of filo and then place a second square onto the first at a slight angle. Do the same with the 3rd square. Push down gently and spoon half a plum into each one with a little sauce.
Pull up the pastry gently to seal. Brush with more butter.
Sprinkle with caster sugar and bake for 12 to 15 minutes or until golden and crisp.
Cool for 10 minutes before removing them to cool on a cooling rack.
Dust with icing sugar before serving with a delicious dollop of Mascarpone cheese or vanilla ice cream.
Filling:
Place the plums, sugar, lemon juice. water, star anise, cinnamon stick and orange peel into a medium-size saucepan.
Gently bring to the boil, give the mixture a gentle stir so as not to break up the fruit.
Cook till the plums are just fork-tender; remove the plums with a slotted spoon and place in a bowl to cool with the sauce.
Icing sugar and Mascarpone cheese
Serve these with extra poached plums
Recipe by: Jenny Morris and Juicy Delicious
Feature Image: Shared by Juicy Delicious