This super-easy, mouth-watering grilled strawberry and biltong salad is extracted from Jan's first cookbook, The French Affair: Tables of Love.
A proud South African who divides his time between Cape Town and Nice in the south of France, Jan Hendrik van der Westhuizen is SA's second Michelin-star chef.
Jan describes himself as an optimist, a dreamer and a doer. He admits:
"I have a very short attention span, which means I change my mind and how I apply it quite often – I am constantly moving an object in my home or rearranging a dish on a plate. As long as I keep moving, I'm happy."
This world-renowned restauranteur opened his own restaurant, JAN, in Nice in 2013, and today he has three local chefs working alongside him. They pride themselves on promoting traditional South African flavours to the outside world.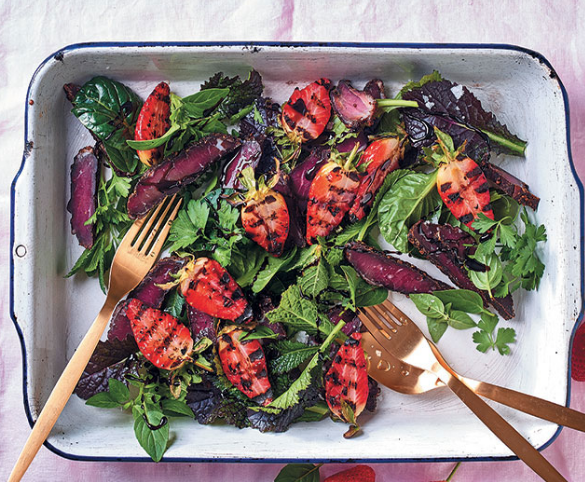 Ingredients
12-16 ripe strawberries

extra virgin olive oil, to drizzle

large handful mixed salad leaves

balsamic vinaigrette, to drizzle

1 large piece of biltong, thinly sliced

coarse sea salt and freshly ground

black pepper, to taste
Instructions
RINSE the strawberries and dry on paper towel. Slice them in half, leaving the green stems in place.
HEAT a large griddle pan and drizzle with olive oil. Place the strawberries cut-side down and chargrill until dark.
DRIZZLE the mixed salad leaves with the balsamic vinaigrette. Toss through the strawberries and thinly sliced biltong. Sprinkle with coarse sea salt and freshly ground black pepper to taste.
Recipe by: Jan Hendrik van der Westhuizen
Styling by: Claire Ferrandi
Assisted by: Nomvuselelo Mncube
Recipe photography by: Dylan Swart