As we gear up for one of the most-anticipated fashion events in the world (New York Fashion Week, of course) we're always met with all the excitement that comes with novelty.
New styles, looks, designers and models will forecast high and retail fashion's future as they historically have. We're looking forward to seeing a lot of newer concepts on the runway this year – fingers crossed for more sustainable looks and a lot more inclusivity.
But it also wouldn't be fashion week without a dose newness that comes with two sides to the coin.
One new model set to make her debut on New York Fashion Week's runway will make strides toward her dreams at an age when most are still playing dress-up.
At 11-years-old, South African model Gizelle will walk for renowned designer Amelia Tuu.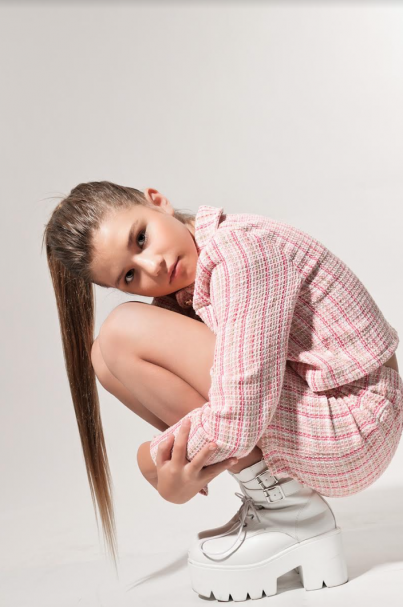 A lifelong career already
Based in Mossel Bay and born in Centurion, the South African model (also known by her stage name Miss G) has been a performer since she was around five or six years old. Some people believe their careers have felt lifelong, but in Gizelle's case, this is actually true.
A tiny triple threat, Gizelle is versed in singing, modelling and acting and is making her way onto the dance scene. She was scouted at the International Arts Talent Showcase just last year and immediately got signed to 33 and Me Talent agency and secured features for PEPCO. Described to be well known for her kindness and character on set, much of her magic lies in her personality.
Fresh from a trip to the USA where she took part in the International Modeling and Talent Association (IMTA), the largest talent convention in the world, she returned with news that most models much older than her wait years to hear. She had been scouted and invited to walk the runway for Amelia Tuu.
For Gizelle, this was a dream come true. Despite her other budding talents, modelling and fashion have weaved their way to the top shelf of her young passions.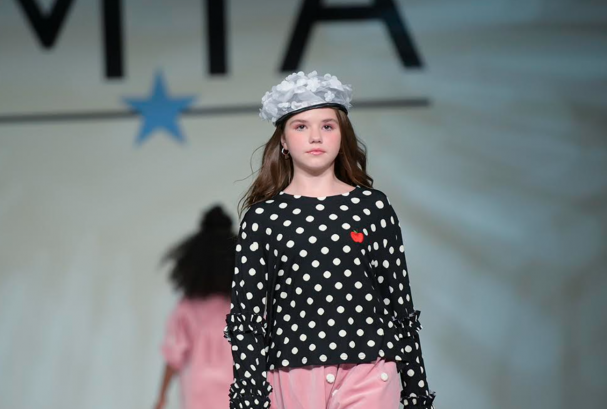 "Since I was a little girl, I always liked music, singing and dancing," Gizelle says of her 'younger years'. "My family encouraged me to take part in various events to gain experience. Modelling is my favourite though. I have always enjoyed creating my own outfits, and from an early age I made it my business to keep up with current trends. I love fashion and I think everyone should get to express themselves through fashion."
Then there are her musical musings – she already has a single on the way. Gizelle went on to book an international collaboration with American singer-songwriter and producer Nate Butler who some might know for working with the Backstreet Boys and Victoria Beckham.
Of her rise in the modelling industry, the chairperson and CEO of 33 and Me Talent Agency says, "Gizelle might be young but her commitment and focus to the industry is outstanding."
And of course, the support system for anyone and especially kids is all-important. In Gizelle's case, her parents are described to be "extremely supportive".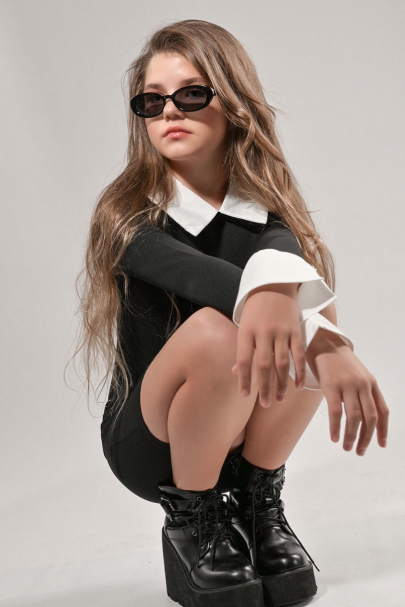 Gizelle is naturally excited to walk for one of the most iconic fashion events. Which model wouldn't be?
"It's always been a dream of mine, but I never thought it would happen this soon," she shares before highlighting her confidence.
"I am not nervous. Runway is my strongest talent, and I feel at home when I'm on stage. Runway is where I belong and I love showing off the different outfits."
A great opportunity or a little too early for such a demanding career?
However, the elephant in the room amongst all the excitement asks the contested question. Is 11 too young to enter the fashion industry at that level?
The topic of child modelling has especially in the last few years become a highly divided one. Some believe that it's the only way to truly break into the industry. Others think that waiting a few years will save some young models a lot of therapy bills.
Child Modelling, the pros and cons
It's not news that the modelling industry is tough, to sugar-coat it. And, whether kids or even young teens should experience those pressures and influences on their body image so young has largely been questioned.
We've seen young models make incredible careers for themselves throughout the decades since the supermodel boom, but in the current era so focused with mental well-being, does modelling at such tender ages still have a place?
There are a lot of pros to entering the industry at a young age, which many use to justify child modelling in the first place. Exposure, confidence building, a good and early work ethic culture and coping with rejection are just a few, as The Model Builders share.
The younger generations also already know what it means to have skewed images of beauty by the time they know what social media is. Unfortunately, in the digital age, it comes with the territory. However,  even though they may be more used to it (and have access to a lot more information on how bogus it all is) it doesn't mean that they're completely prepared for an industry that capitalises on beauty standards.
Our early years are incredibly formative. Reach back to the days when someone judged your appearance as a kid and you can likely still remember it vividly. Now, imagine that on a much, much bigger scale.
Beyond the self-image red flags that modelling young presents, the looks these models are often scouted for also change drastically after puberty hits. Many models try to retain their pre-teen looks, but, the fashion industry works fast, and wastes little time in waiting.
Sara Ziff a model and founder of Model Alliance famously shared her thoughts. "It's a grown-up industry with grown-up pressures," she said as per CNN.
A few years back, Vogue published a piece titled Why the Fashion World Needs to Commit to an 18+ Modelling Stndard.
The article criticised Vogue itself for glamourising what it deemed the labour of children and teenagers.
"Young models are still developing. There can be a lack of the confidence, strength, experience, and maturity it takes to deal with the pressures of this work," it reads.
Diamonds may be made under pressure, but is the pressure worth it?
ALSO SEE: 
Copenhagen's street style gives fashion shows a run for their money