With its unmistakeable mountain views, the award-winning Val du Charron Wine and Leisure Estate is situated in the picturesque Bovlei, ten minutes from the town of Wellington and under an hour's drive from Cape Town. With a history of winemaking dating back to 1699 Val du Charron's wines are available worldwide but are best enjoyed surrounded by the vineyards themselves at one of the Estate's restaurants or from your own balcony at the 4 star Guesthouse or 5 star Coach house suite and Manor.
Val du Charron's 4 star Guesthouse invites young and old, business and leisure travellers  to enjoy the beauty of the Cape winelands with all the convenience you would expect from luxury accommodation.
With 17 en suite rooms each with its own balcony, you can soak in the views while you enjoy a cold drink from the minibar or a gourmet coffee from the in-room drinks station.
If you are visiting us to unwind, cycle or run the Wild Boar MTB trails, tan by the pool in the glorious sunshine, read a book from the library or play a board game in the lounge if there are clouds in the sky. A treatment at the spa will melt your cares away.
Kids are welcome! Our spacious family rooms are great for moms and dads and kids sharing. With a pool, jungle gym, splash pad and plenty of place to roam the kids will be entertained while you enjoy a fabulous meal at either of the Estate's two restaurants.
If you have chosen us to get the business done, our fifty to eighty seater conference room with projector, DSTV, wifi, pause area and fire place to network by is a great space to conclude that deal.
The Coach House at Val du Charron offers luxury 5-Star accommodation in Wellington, Cape Winelands.
With only three spacious suites, each with its own plunge pool and private patio with built in wood burning fireplace, the Coach House is your private space to unwind while overlooking the majestic winelands and mountains.
And then there is the manor for that special occasion…
Relax in your sensuous spa bath or shower for two. Remember to book your onsite spa treatment to complete the ritual.
Take in the unique design elements such as the natural stone features and striking stain glass window features. Enjoy the mod-cons such as wifi, airconditioning and mini bar.
And why not order in? Enjoy a choice of meals from either of the two restaurants on the Estate delivered to your patio.
Whether you are staying with us or just coming out for the day to the countryside we have a choice of two onsite restaurants to choose from.
Pizza vista, our family friendly Pizzeria, Pizza Vista Restaurant, is the place to hang out on a lazy day or after a long ride on our mountain bike trails.
While mom and dad are having lunch, kids can cool down at our water park located on our lawn in front of the restaurant.
Pop in and choose from a variety of pizzas, calzones and delicious pasta dishes and wash it all down with a craft beer or a thirst-quenching cocktail. It really is a family fun affair at Pizza Vista.
The Grillroom is simply nirvana for carnivores: grain-fed and grass-fed beef, dry or wet aged, is all aged between 22 and 55 days – burgers and chicken feature prominently along with prawns and calamari, and there are also vegetarian options on the menu. Trawling the extensive menu could take a while, enjoy it with a glass of the Estate's award winning wines. If you love meat as we do, though, this is a little bit of heaven with views to match.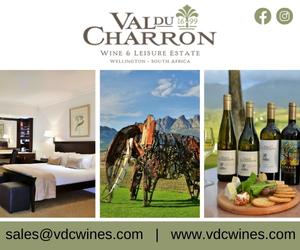 Airy, understated European elegance epitomizes the restaurant's interior, which is glass fronted to showcase the panoramic views from the vineyards and olive orchards to the blue-hued mountains that encircle Wellington. On a sunny day choose a table on the deck and sit side-by-side to enjoy the natural theatre.
Open seven days a week, please contact Evans on 0218731256 or [email protected] to book your stay, meal or spa treatment. For more information on the Estate and our wines, visit www.vdcwines.co.za