Spring is in the air and most of us are gearing up for a Spring clean in and around our homes. This can be done more efficiently and easily when you're wielding the right tools! 
ALSO SEE: Cleaning hacks according to viral TikToker Mbali Nhlapo
GARDENA takes you through some products that will cut down your cleaning time, giving you more time to spend on yourself:
GARDENA's Cleansystem is the perfect solution for dealing with all water-based cleaning projects. Simply combine a Cleansystem handle with the appropriate cleaning attachment, connect it to a GARDENA hose, and then attach it to your tap – no need for lugging and spilling buckets of this precious resource before you've even started cleaning! 
Motor vehicles
Car washing made easy! Achieve gentle, effective cleaning of vehicles and sensitive surfaces using GARDENA'S Car Wash Set.
The Cleansystem's straight and elbow handles allow you to reach high surfaces, and the soft brushes allow you wash sensitive surfaces. The handle is designed for water to flow through resulting in super-clean surfaces.
Shampoo sticks or discs can be inserted into the handle to provide specially formulated chemicals for gentle cleaning.
The Wash set is ideal for cars, caravans, bicycles, bakkies and boats.

Caravans
As we start preparing for the upcoming school holidays and a December vacation, we need to dust off the caravan and camping equipment.  Correct cleaning is very important to maintain and extend the life of your caravan and camping products.
The Cleansystem handle and extension accessories allow you to clean hard-to-reach surfaces with ease and convenience. The handle has an adjustable water flow regulator allowing you to control the volume of water for your cleaning project.
Simply unclick the brush and connect a different attachment to continue cleaning different surface areas.
 
Boats and yachts
Boat and yacht cleaning is very important to prevent rust and decay of surfaces and components to keep them running efficiently. Decay can be especially serious when vessels are regularly placed in salt water. 
Regular cleaning helps preserve the boat or yacht and keeps it in good condition, providing a longer life in the water. Choosing the right equipment is important when performing cleaning tasks! 
Scum and dirt are ongoing issues, so it is crucial to stock up on the right supplies. Choose tools with soft bristles and surfaces whenever possible to prevent damage to the finish of the vessel. While cleaning will be necessary to cut through debris, preserving shiny surfaces for cosmetic reasons should also be a consideration.
 
Window cleaning
GARDENA Window Cleaner with Wiper offers a solution for streak-free cleaning of windows and glass surfaces conveniently and effectively.
The Window Cleaner has a built-in rubber lip which can be used as a 'squeegee', making it easy to wipe window or tiled surfaces.
For ultimate convenience, the window cleaner allows you to mix and match handles depending on height requirements. For extended height, use a telescopic handle to reach up to 2.6 meters in height.  For hand-held operation, the cleaner can be fitted directly onto the hose. The swivel joint allows movement of 360° on the cleaning surface. 
Supplied with high-quality microfibre fleece, which can be easily removed and is fully machine washable.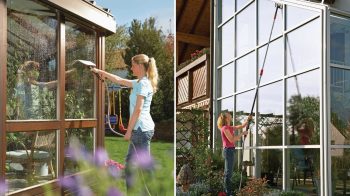 Medium pressure cleaning
If your cleaning tasks require a more powerful and vigorous cleaning tool, then the GARDENA AquaClean Pressure Washer comes highly recommended. 
This versatile product with adjustable pressure settings from 9bars to 24bars, is perfect for cleaning just about every surface and is ideal for cars, bicycles, trash cans and garden furniture. 
This lightweight battery-operated pressure washer connects directly to the GARDENA hose making it extremely convenient to use. No need to stress on electricity connection or loadshedding, the Power For All battery allows you to operate for about 38, 20, or 16 minutes depending on the pressure setting.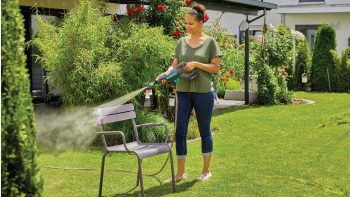 Blower vacuum
The GARDENA battery operated PowerJet blower vacuum, from the Power For All family of products, is powerful and easy to operate when removing debris, leaves and grass cuttings. 
With a blow speed of up to 320 km/h , cleaning can be done quickly and effortlessly, without the need for bending down and straining the back.
Equally powerful is the GARDENA electric-powered ErgoJet blower vacuum, which can be used for blowing, vacuuming and shredding leaves for a tidy garden.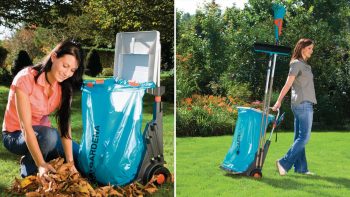 ALSO SEE:
Feature Image: Supplied