Smartwatches, like any item regularly worn on the body, can accumulate dirt, sweat, oils, and bacteria over time.
Continuous wear can lead to the accumulation of bacteria, which can potentially cause skin irritation or other issues if the watch is not cleaned regularly. Plus, dirt and grime accumulation can affect your smartwatch's functionality and may even lead to deterioration after long periods. So proper maintenance and cleaning is essential!
ALSO SEE: Is it healthy to sleep with the fan or aircon on?
Here's a guide on how to clean your smartwatch:
What you'll need
Mild soap or gentle hand soap
Water
Soft, lint-free cloth
Cotton swabs (optional)
Isopropyl alcohol (70% or less concentration, if recommended by the manufacturer)
Microfiber cloth or a screen-cleaning cloth (for the watch face)
Before you get started
Read the manufacturer's guidelines on cleaning your specific smartwatch model. Some watches have specific recommendations or restrictions that you need to follow.
Switch off and remove bands
First, make sure your watch is turned off. Then, detach the bands from your smartwatch's face. Follow the manufacturer's guidelines for cleaning the bands – some bands can be washed with mild soap and water or wiped down with a damp cloth.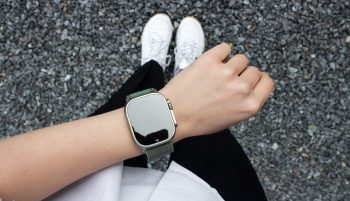 Face first
Dampen a soft, lint-free cloth with water. Ensure it's not dripping wet, just slightly damp. Gently wipe the watch face to remove smudges, dirt, or grime.
For stubborn spots, you can moisten the cloth with a small amount of mild soap and water.
If the watch face is water-resistant and the manufacturer allows it, you can rinse it under running water. Be cautious not to submerge the watch if it's not explicitly waterproof.
Hard-to-reach areas
Use a cotton swab slightly dampened with water to clean areas around buttons, crevices, or ports if needed. Be gentle and avoid excess moisture that might enter the device.
Wipe up and dry off
Use a dry, soft cloth to wipe away any moisture from the watch face and bands. Ensure all parts are completely dry before reassembling the watch.
Reassamble and she's good as new!
Reattach the bands to the watch face once they are completely dry.  Ensure the watch is completely dry before using or charging it.
Now you can rest peacefully knowing that you're maintaining for device for a longer lifespan, and that you're not putting yourself in danger of any skin irritations or bad bacterial situations!
ALSO SEE:
Feature Image: Unsplash