Why not spoil yourself with a spa break? Discover South Africa's best spots for some R&R, whether just for you or with a special someone. Here's our pick of the ultimate luxury spa breaks in South Africa.
South Africa's best luxury spa breaks:
THE SWANKY CITY SPA
Perfect for switching off (quite literally) and tuning out, without having to venture out of the Sandton CBD.
FIRST IMPRESSIONS
It's easy to see why Beyoncé would make The Saxon Hotel her residence of choice during Jozi visits – in the heart of Sandton, this sanctuary has green lawns, cascading water features and peace and quiet from the hustle outside its doors.
AND… RELAX
It's a real sanctuary of the senses. Plus each signature treatment begins with a mindfulness exercise with your therapist. And really, shouldn't every spa treatment start with a short meditation to help you switch off?
THE TREATMENT
Digital Detox: After 2020's rigid lockdowns and a sharp increase in everybody's daily screen time, spa manager Tanya, recognised a need for some QT away from all digital devices. She put together the Digital Detox treatment to give every body (and mind) the solace we're all craving.
Before the treatment begins you are asked to pop all of your devices into a bag, not to be seen again until you're floating out of the spa… Once cosy in the treatment room, you select your
own massage oil while being treated to a warm foot bath. Next comes the dreamiest Himalayan Salt Scrub, which does wonders for dead skin cells but also continues to work on removing
toxins from your body long after you leave the spa. After you've showered in the in-room shower, it's back on the bed for a full-body cupping massage. Your therapist will focus on
the areas most affected by our devices – arms, shoulders, lower back, hands, and the back of your legs. And while the Saxon uses silicone cups instead of the glass ones to make the whole
experience more relaxing and less like torture, you should be prepared for a little bruising. Totally worth it for the detox but don't book this treatment before a big event.
Post-treatment you're welcome to hang around in the spa's luxurious facilities. You won't be blamed for not rushing back into the city's bustle right away. Nor will you be itching
to get your digital devices back. It's a true reset, with serious relaxation and a newly detoxed bod to take home.
HOW TO BOOK
Signature Digital Detox Journey 90 min | R2 000 saxon.co.za
THE GARDEN RETREAT
Nestled in the gorgeous gardens of Babylonstoren, it's the perfect place for fresh air, flower gazing and pampering.
FIRST IMPRESSIONS
With views of the surrounding Franschhoek mountains that are guaranteed to take your breath away, a farm shop to stock up on all the best goodies, and plenty of wine farms for tasting, it's hard to get bored here.
AND… RELAX
The spa is designed to make the most of its idyllic surroundings, and a sense of calm envelops you the minute you enter the farm gate.
THE TREATMENT
Bamboo Massage: After walking the dusty garden footpath in the midday heat, a cleansing foot bath on arrival is most welcome. The treatment starts with stretches and breathing and then moves on to deep tissue massage. Then the therapist uses heated bamboo tools that are smooth and rounded to get even deeper for muscle release. The bamboo is significant to the farm as it grows abundantly around the area and the spa is enclosed through winding bamboo hedges, creating a zen-like space that's calming and fun to explore. A converted reservoir plunge pool and strategically placed sun loungers make for the perfect spot for reading and cooling off from
the Franschhoek heat. When you get peckish, pop over to the garden restaurant next door, for a delicious farm-to-plate lunch and fresh juice.
HOW TO BOOK
Bamboo Massage 90 min | R1 850 (includes lunch and a fresh juice) babylonstoren.com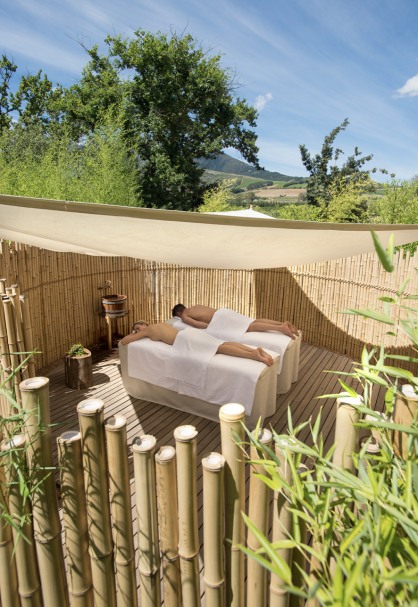 THE SEASIDE ESCAPE
Perched along the idyllic KZN coastline overlooking the Indian ocean, The Oyster Box is one of the best-known hotels in South Africa.
FIRST IMPRESSIONS
This beautiful place with golden sands, crystal-blue sea and pops of red from the iconic   lighthouse and candy-striped deck furniture, invokes that holiday feeling. You feel your shoulders drop an inch with every wave that breaks on the rocks.
AND… RELAX
Luxury and charm are qualities this hotel is not short of, and with a Colonial-Afro-Indian fusion that runs through the hotel and spa facilities, including an authentic eastern Hammam, it is a unique experience you won't easily forget.
THE TREATMENTS
The Oyster Box Hammam Ceremony/Durban Hammam: Hammams, a bathing retreat dating back to Roman times, with benefits including deep cleansing, relaxation and restoration.
The Durban Hammam treatment kicks off with a 30-minute back massage on the heated marble slab – the humidity of the room aids muscle release and relaxation. Next, heated lemons are used to give deep tissue massage as they soften and burst, they release citric acid, naturally
exfoliating the skin. The ritual ends with a sugar cane and coconut oil scrub removing dead skin, leaving the skin invigorated. Emerge feeling rested and calm, before enjoying dinner with a view, at The Ocean Terrace.
HOW TO BOOK
The Oyster Box Hammam Ceremony/ Durban Hammam 75 min | R1 710 oysterboxhotel.com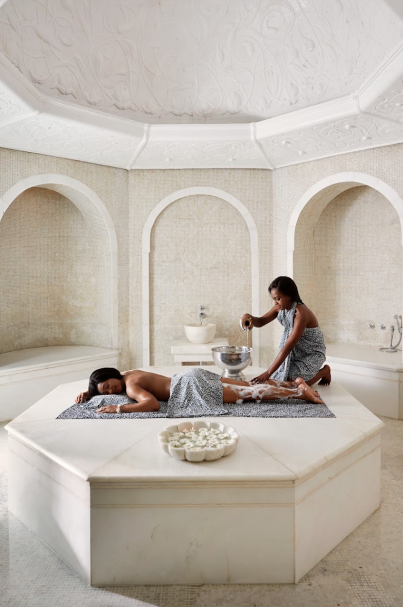 THE INNER-CITY OASIS
Escape city stress at Lume Beauty Atelier, situated in the hustle and bustle of De Waterkant.
FIRST IMPRESSIONS
Beautifully designed interiors, of white marble and gold accents, with a water feature, soothe the senses. Plush robes and modern state-of- the-art facilities, make it even more inviting.
AND… RELAX
Count yourself lucky if you get the therapist Dudu – her passion is evident in every stroke of her hand. The treatment feels like an ancient ritual she's proud to perform. This coupled with earthy Terres d'Afrique products and you are guaranteed to feel grounded and calm.
THE TREATMENTS
Terres d'Afrique Restored-Detoxing: The facial follows the usual order, but it's a very physical treatment that includes massages and stimulation, which aids detoxification and relaxation, leaving your skin calmed and restored. The products are full of natural, local ingredients such as baobab and marula. While talking through the products and their benefits, Dudu phrased it perfectly: 'We must age the smart way,' and if relaxation and self-care are ways to ward
off stress and ageing, then we think treating yourself to this might be just what the doctor ordered.
HOW TO BOOK
Terres d'Afrique Restored-Detoxing 60 min | R510 lumebeauty.com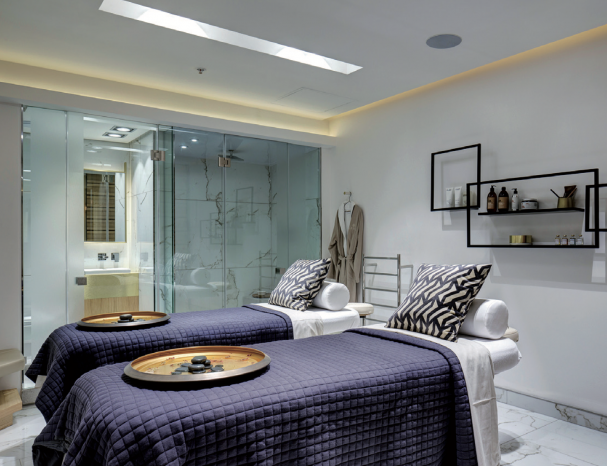 ALSO SEE 5 MUST-HAVE BEAUTY PRODUCTS OF THE SEASON