Science has come far in managing health and even our ageing. We have access to some of the best anti-ageing supplements on the market, promising all sorts of miracles. So where to start?
The trick to anti-ageing and looking (and feeling) younger begins from the inside. That means good nutrition and often vitamins with anti-ageing effects. It's also important to get enough of the vitamins and minerals your body needs to function optimally and regenerate.
The truth is, there's far more to longevity and wellbeing than simply getting rid of those pesky wrinkles. If you approach your health from a holistic point of view – and take care of your skin, as well as your joints, muscles, bones, brain, eyes and heart health – you'll begin to look as good as you feel.
You are what you eat
In addition to the right anti-ageing supplements, which we'll discuss in a bit, what you put in your mouth is also critically important to your overall complexion. According to a study published in Dermato Endocrinology, prevention is the best way to fight skin ageing. Researchers recommend the following for a healthy, glowing complexion:
Follow a healthy, well-balanced diet and avoid overeating
Ensure you get regular exercise
Try to reduce your stress levels (as stress shows up on the skin in the form of wrinkles)
Include plenty of antioxidant rich foods in your diet such as brightly coloured fruits and veggies
(Psst, also NEVER forget to wear your suncream! You can find your perfect match here.)
Along with the tips above, choose the right anti-ageing supplements to support your lifestyle. Here's what we suggest:
Skin health
What does collagen do to your skin? Collagen doesn't just keep your skin plump and wrinkle-free, it's the 'glue' that holds your entire body together. Yep, this fibrous structural protein supports your skin, blood vessels, bones, tendons, cartilage and other connective tissues, and helps repair of almost all body tissues.
Your body's collagen production naturally begins to slow around age 30. But lifestyle factors – like smoking, high sugar intake and excessive sun exposure – also contribute to its depletion.
To support your body's collagen production, eat foods high in its building-block amino acids like red meat (occasionally), chicken and fish. You can also take a dietary supplement – we love the Dose & Co Dairy Free Collagen Creamer, R479 at Superbalist and Takealot. It comes in caramel or vanilla, gives a gorgeous creamy cap to your morning coffee and is so easy to use!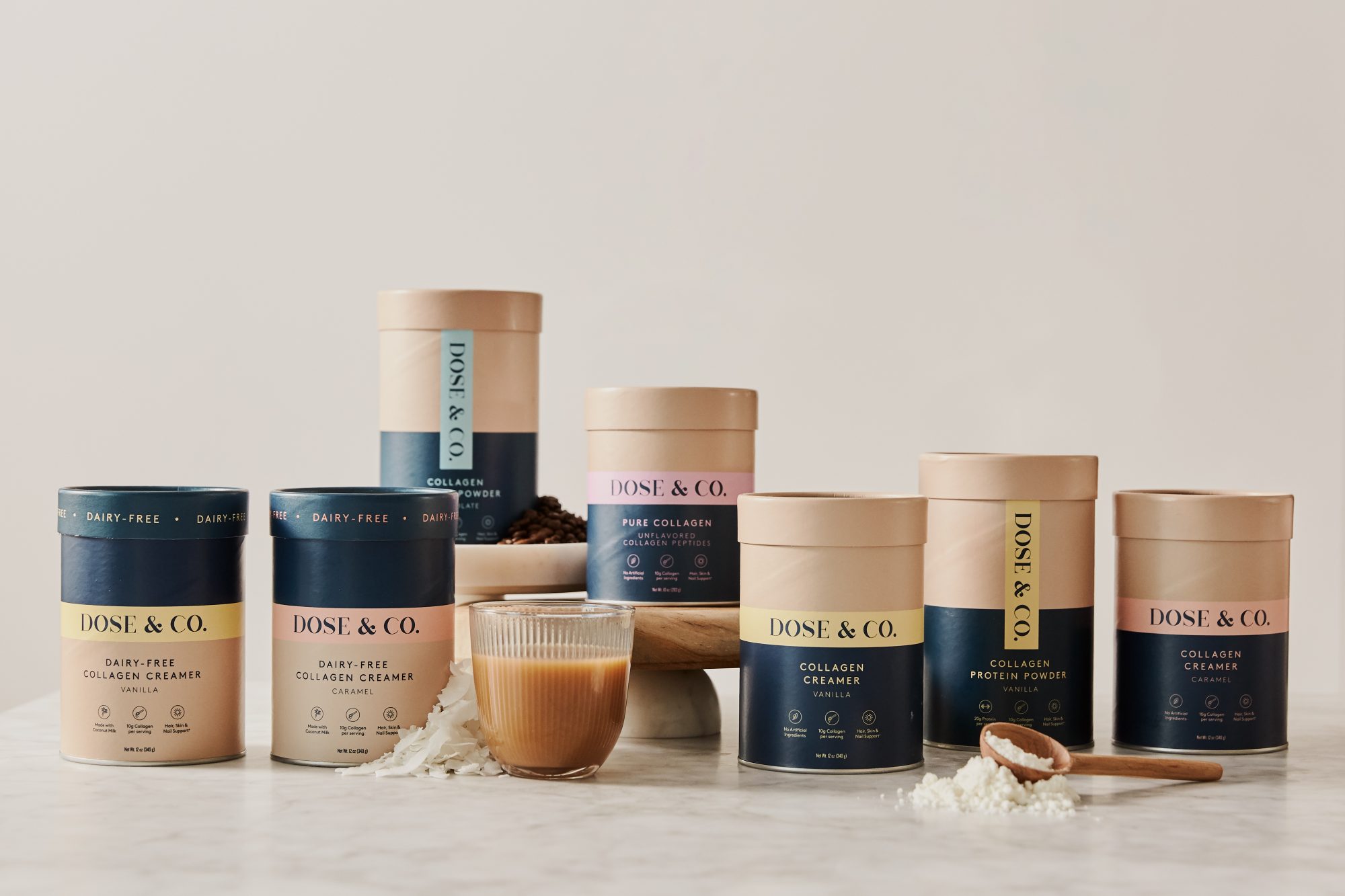 A study by the American Academy of Dermatology has also suggested that foods high in vitamin C can help to reduce the appearance of fine lines and wrinkles.
Bone health
We've all heard that calcium is crucial to maintaining strong bones, and calcium-rich foods and drinks are the ideal way to meet this need. For example, drinking a 250ml glass of low-fat milk and eating a cup of broccoli provides around 50% of your recommended daily intake.
But if you need to up your intake, pick a calcium supplement with added vitamin D (which helps the body to absorb calcium) and magnesium (to help the body use vitamin D and calcium effectively). Try Solgar Ultimate Bone Support, R555 at Faithful to Nature (1). For an option that is easier on the budget try Caltrate Plus, R137 at Clicks (2). This will require a separate magnesium supplement though.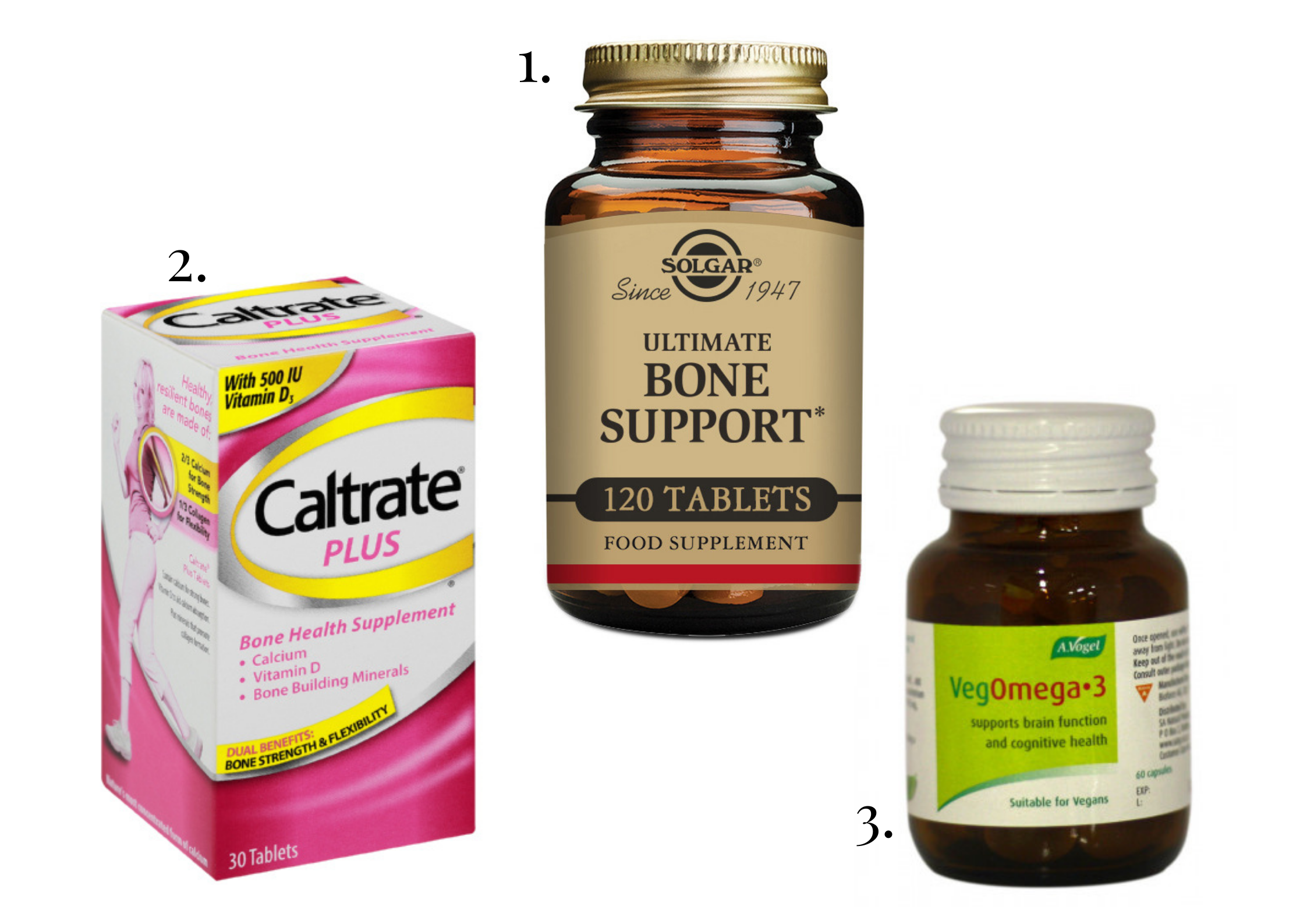 Brain health
About 15% to 20% of the brain is made up of omega-3 essential fatty acids. These are vital for its functioning (learning, memory and behaviour), as well as protecting it from inflammation and oxidative damage.
Indeed, the US's ongoing Framingham Heart Study found at a nine-year follow-up that participants with the highest blood levels of omega-3 were 47% less likely to develop dementia than those with the lowest levels.
Our bodies cannot make omega-3, so we need to get it from our diets. Five foods richest in omega-3 are sardines, fortified eggs, spinach, canola oil, and chia seeds. A good supplement for your brain is also a wise idea. Try A Vogel VegOmege-3, R233 at Faithful to Nature (3), which is vegan.
Eye health
In 2001 the US National Eye Institute released the results of its Age-Related Eye Disease Study 1, showing that daily doses of vitamin C (500mg), vitamin E (268mg), beta-carotene (15mg) and zinc (8mg) reduced the risk of age-related macular degeneration and its associated vision loss.
Again, you should get most of what you need from a healthy, balanced diet. Red peppers are a great source of vitamin C, almonds are rich in vitamin E, sweet potatoes contain a large amount of beta-carotene, while zinc can be found in beef and chickpeas. For extra help turn to a good multivitamin that includes all you need for good eye health. Try Vital Women 50 Plus, R139.95 at Dis-chem.
Heart health
In SA, it's estimated that 25% of women will develop a heart condition before the age of 60,. That scary fact is according to the Heart and Stroke Foundation. The good news is you can significantly reduce your risk by sustaining your levels of Coenzyme Q10 (CoQ10).
This nutrient is used by cells to produce the energy needed for their growth and maintenance. Especially those of the heart, which functions continuously and so needs more energetic support than any other organ in the body. Recent studies have also found that CoQ10 helps reduce cholesterol, lower blood pressure, and balance blood sugar.
CoQ10 is synthesized by the body, but declines with age and is also lower in people with chronic diseases. You can boost your levels by eating certain foods like beef, chicken, eggs, sardines, pistachio nuts, sesame seeds, oranges and cauliflower. And, of course, with a dietary supplement – we like Wellvita Co-Q10, R179 at Clicks.
Can I take too many supplements?
Surprisingly, despite being natural, it is possible to 'overdose' on vitamins and minerals. Check you're not creating toxicity due to doubling up on certain nutrients (like zinc) by taking more than one supplement that includes these. It's advisable to consult your GP before taking any new supplements.
DISCLAIMER: You must not rely on the information on this website/newsletter as an alternative to medical advice from your doctor or other professional healthcare provider.
ALSO SEE ON DADDY'S DEALS: An Essential Nutrition Course from Course Central!