You could visit the best restaurant in the world, but nothing beats a plate of homemade potsticker dumplings – known as gyoza in Japan.
Potstickers a delectable staple of Asian cuisine, devoured worldwide. These comforting parcels are packed with flavour, containing your choice of savoury fillings wrapped up in a crispy fried dumpling.
Making your own potstickers at home does require some skill in the kitchen, but they're so worth it! Roll up your sleeves, prep your ingredients and fold your way through a batch of your very own homemade potstickers with the recipe below:
ALSO SEE: Grow your own first aid kit in your garden with these foods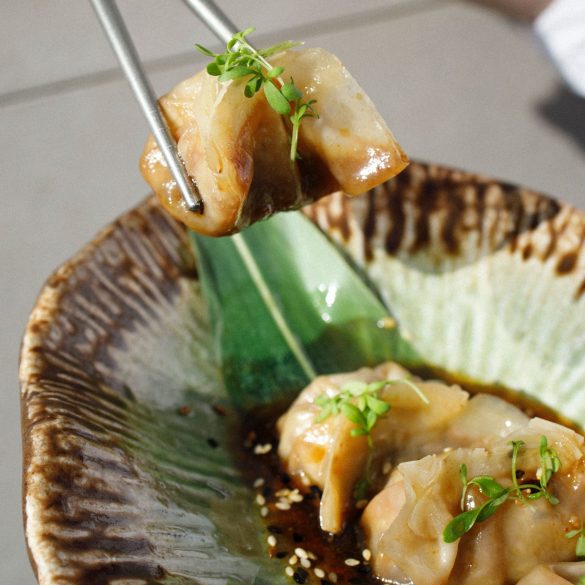 Ingredients
For the dough:

2 cups all-purpose flour

1/2 cup hot water

A pinch of salt

For the dipping sauce:

2 tablespoons soy sauce

1 tablespoon rice vinegar

1 teaspoon sesame oil

1 teaspoon chili sauce (optional, for some heat)

Chopped green onions (optional, for garnish)

Adding a drop of honey will elevate the flavour profile to the next level (optional, for sauce)
Instructions
Method
When making the dough:
In a mixing bowl, combine the all-purpose flour and a pinch of salt.
Gradually add the hot water while stirring until a dough forms.
Knead the dough on a floured surface for about 5 minutes until it becomes smooth and elastic.
Shape the dough into a ball, cover it with a damp cloth, and let it rest for 30 minutes.
Assembling the potstickers:
Roll out the rested dough into a thin sheet and cut it into round wrappers using a cookie cutter or a glass.
Place a small spoonful of the filling in the center of each wrapper.
Fold the wrapper in half, creating a half-moon shape.
Seal the edges by crimping and pleating them with your fingers.
Repeat this process until you have made all your potstickers.
Fillings to try:
Classic pork and cabbage: A timeless favourite featuring ground pork and Napa cabbage, enhanced with garlic, ginger, and soy sauce.
Prawn and cabbage: For seafood enthusiasts, a delightful blend of minced shrimp, fresh chives, garlic, and ginger, seasoned with soy sauce and sesame oil.
Vegetarian tofu and mushroom: A vegan-friendly option, combining crumbled tofu, shiitake mushrooms, garlic, and ginger, with a savoury soy-based seasoning.
To cook your potstickers:
Heat a non-stick skillet over medium-high heat and add a tablespoon of oil.
Place the potstickers in the skillet, flat side down, and cook for 2-3 minutes until the bottoms turn golden brown.
Carefully pour in 1/4 cup of water and cover the skillet. Reduce the heat to medium-low and steam for about 5-7 minutes or until the wrappers become translucent.
Uncover the skillet and continue cooking for an additional 2-3 minutes to crisp up the bottoms.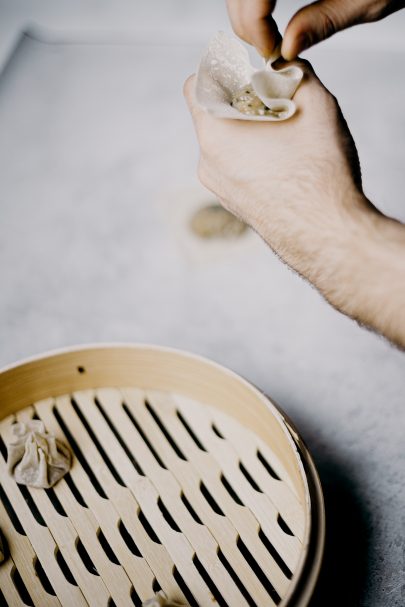 ALSO SEE:
Featured Image: Pexels