A touch of coffee adds a comforting twist to this pudding!
By Vickie de Beer, assisted by Jana van Sittert and Inemari Rabie.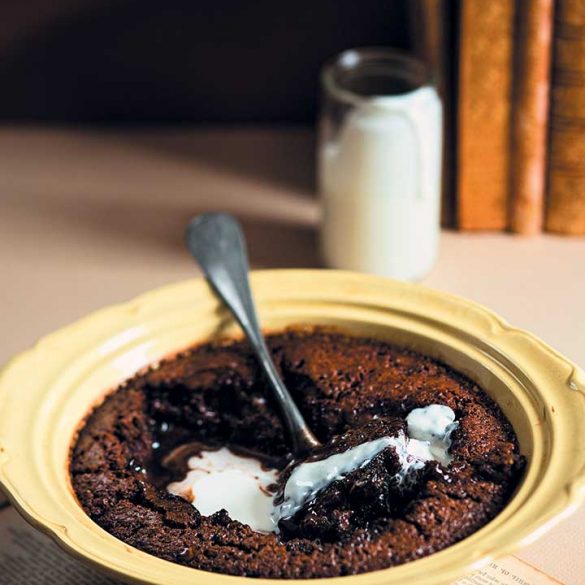 Ingredients
½ x 360g tin caramel

60ml (¼ cup) fresh cream

125ml (½ cup) milk

35g butter, melted

1 egg, lightly beaten

5ml (1 tsp) vanilla extract

15ml (1 tbsp) quality instant coffee

80g flour, sifted

7,5 ml (1½ tsp) baking powder, sifted

5ml (1 tsp) salt

60ml (¼ cup) ground almonds

50g (¼ cup) brown sugar + 100g (½ cup) extra

22,5ml (1½ tbsp) cocoa powder

250ml (1 cup) water

double-thick cream, to serve
Instructions
PREHEAT the oven to 180°C and grease a 23 x 5cm round ovenproof dish.
MIX the caramel and cream in a small bowl and spread over the base of the ovenproof dish.
WHISK the milk, butter, egg and vanilla in a large bowl.
COMBINE the flour, baking powder, salt, almonds, coffee and 50g (¼ cup) sugar in a separate bowl.
ADD the milk mixture gradually and whisk to form a thick batter. Pour the batter over the caramel and set aside.
PLACE the extra sugar, cocoa and water in a medium saucepan and bring to a boil. Remove from the heat and pour over the batter in the bowl.
BAKE until the top is set but the inside is still soft, 25 - 30 minutes. Serve with cream.
ALSO SEE:
Get your scoop of the world's first ice cream made out of air…
Feature Image: Lee Malan