Mayonnaise lovers, rejoice! B-well has taken mayo to new levels with their irresistible range of flavoured mayo, a premium condiment that not only adds a burst of flavour, but also packs a powerful nutritional punch! 
Join and we dip into the world of B-well flavoured mayo, highlighting its delectable taste, exceptional quality, and remarkable health benefits that are sure to make you think twice about their fellow mayo counterparts…
B-well's flavoured mayo is the bomb!
B-well flavoured mayo is not your average condiment. Infused with a variety of enticing flavours, such as Garlicnaise, Lemonaise, and Chillinaise ordinary dishes are transformed into extraordinary culinary experiences that tantalise your tastebuds!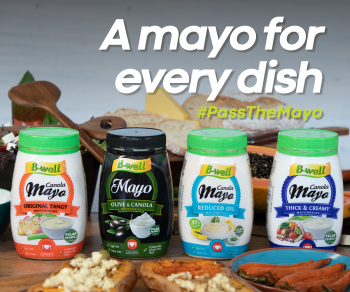 That's not all – B-well mayo goes beyond flavour by offering a wealth of well-being benefits:
When it comes to what it can do for the body, B-well flavoured mayo takes the lead. It is high in omega-3, a beneficial fatty acid that supports heart health, brain function, and overall well-being. By incorporating B-well mayo into your diet, you can effortlessly boost your omega-3 intake while enjoying the creamy goodness of a mayo that cares for your health.
B-well understands the importance of catering to diverse dietary needs and preferences. That's why their flavoured mayo is vegan, dairy-free, egg-free, and naturally gluten-free, making it an inclusive choice for individuals with specific dietary requirements. Now everyone can indulge in the delectable flavours of B-well mayo without compromising their dietary restrictions.
Unleash your culinary creativity:
The versatility of B-well flavoured mayo knows no bounds. Whether you're grilling burgers, crafting gourmet sandwiches, preparing mouth-watering dips, or tossing vibrant salads, B-well mayo adds a touch of magic to every dish. Let your imagination run wild and create culinary masterpieces that will leave your customers craving for more.
Uncompromising quality and indulgence:
B-well takes pride in their commitment to excellence. Each jar of flavoured mayo is crafted with the finest ingredients, including high-quality canola oil, which is low in saturated fats and cholesterol. The result is a velvety texture that delivers both indulgence and nutritional value, setting B-well mayo apart from the competition.
Looking for the secret ingredient that will elevate your culinary adventures? With its irresistible flavours, high omega-3 content, and compatibility with various dietary needs, B-well mayo is your answer. This winning condiment not only tantalises taste buds but also promotes well-being! 
So, there's your sign. Stock the pantry with B-well flavoured mayo, an unparalleled taste experience that nourishes your bodies and satisfies your cravings. With B-well as your buddy, you'll turn every meal into a flavour sensation that will leave a lasting impression
Click this link to visit their website & dive into a world of taste sensations! Plus, discover how B-well Flavoured Mayo can transform your kitchen into a hub of culinary brilliance…
ALSO SEE:
Feature Image: Supplied