Alright. We all know oysters aren't the cheapest option on the menu at restaurants, but occasionally you'll find a good deal at a local supermarket. It would be a missed opportunity not to create a gorgeous oyster meal for the family or for when the girls come over for sundowners!
Spring time is an amazing season to prepare quick, light meals that don't take up much of your time.
Check out this light Oyster & Cucumber salad recipe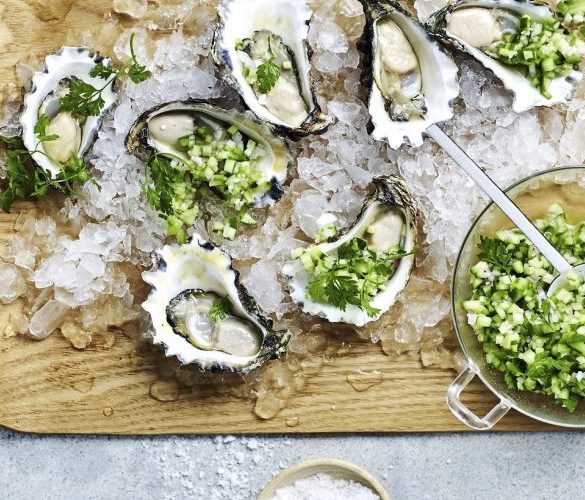 Ingredients
1 mediterranean cucumber, halved lengthways, finely chopped

1 small onion or shallot, finely chopped

2 tbsp white-wine vinegar

1 tsp Caster sugar

2 tbsp fresh parsley leaves

24 oysters (720g), on the half shell
Instructions
Combine the cucumber shallot, vinegar, sugar and half the parsley in a bowl.
Spoon salad onto oysters, top with remaining parsley.
Notes
TOP TIP: Only closed oysters available? Here's how to shuck them: With a cloth in hand to help with grip, firmly hold the oyster with the narrow end pointing towards you. Use a thin knife to cut into the hinge side of the oyster, twisting the blade to open up the shell. Place the top shell aside. Holding the bottom shell, gently use the knife to cut underneath the oyster, this will break the muscle attaching it to the shell. It is now ready to enjoy!