Neon colours made their way back into the fashion world boldy earlier this year, inviting a myriad of subtrends to join the fashion parade. The most popular? Barbiecore.
It all began with hot pink
From Valentino to Dior, vibrant colours like vivid lime and hot pink walked the runway in either top to toe colour sets as seen on Jacquemus' Spring and Summer Collections as well as Stella McCartney's Summer 2022 collection that was showcased in Paris. Valentino's Pink PP Collection has also taken hot pink to its hottest status.
While purple was pinned to be 2022's colour, hot pink has undoubtedly stolen the show.
Add a little Y2K
Two eras fashion lover's have carried well into the new year are undoubtedly the 70s and 2000s (Y2K), sharing avant basic sentiments that brought abstract, prints and colour back into our worlds. The Y2K trend in particular has had an obvious chokehold on society progressing through the fashion and beauty world to give rise to butterfly hairclips, platform shoes and even suede tracksuits have reemerged from the embers of fashion's past. Ultra-bleached blonde hair and braids happily walked out of salons all over the world reminiscent of icons like Paris Hilton as people everywhere decided that they were going back in time.
In an article that begged the question "Why is Y2K Style Still Happening" Highsnobiety attributed the trend to those who rule the internet – GenZ.
The rise of the Barbie film
The Barbie film has been in high anticipation since its production was announced back in 2019. The thrill around the film comes partly due to the A-list casting duo, Margot Robbie and Ryan Gosling, as well as its novelty in being the first live-action rendition of the doll.
After photos of the actors on set found their way to the internet's clutches in April, it was only a matter of time before everyone wanted to have their turn at trying out the looks.
Combining all of the above, the fashionable recipe could only result in Barbiecore.
It's not Barbie's first rodeo as a fashion influencer
Since the 1950s the Mattel doll has influenced beauty standards in a mashup of fun, dreamy, and sometimes questionable ways. Although Barbie has been heavily criticised in mainstream eras for providing unrealistic beauty standards, it seems that her influence is being reimagined, – this time as a springboard for inspiration as opposed to being the standard.
So, what is Barbiecore actually?
"Bold, fun, and eye-catching, Barbiecore allows for just that," expressed celebrity stylist Danyul Brown, who explained that the rise of fun and colour is also a result and contrast of the bleak pandemic as per Harpersbazaar. 
Barbiecore takes on trends of eras gone by, the Mattel-doll aesthetic, hyper-feminism, bold strides, and a sense of freedom that embraces the new wave feminism of being unashamedly girly. Naturally in hot pink and sub-hues.
Barbiecore has already impacted which materials are on retailers' hotlists, with Clearpay recording that sales of neon and fuchsia have gone up by 44%!
Some of our favourite Barbiecore looks so far: 
Anne Hathaway
Kim Kardashian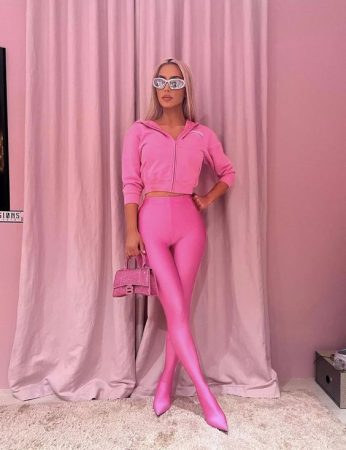 Grece Ghanem
Monaleo
Carol Toledo
Zendaya
Lizzo
Anya Taylor-Joy
ALSO SEE:
A remake of the classic 'Working Girl' is on the horizon with Selena Gomez as the producer
FEATURE IMAGE: @margotrobbieofficial