After ten weeks of non-stop challenges in a whirlwind of eggs, flour and sugar, it comes down to three South Africans battling it out to be crowned as the best amateur baker in The Great South African Bake Off, season 4. 
The winner will leave with the fabulous prize of a Prue Leith Patisserie Diploma 6 month pastry course, and 3 day Valrhona course in Paris.
With phenomenal hosts Lesego Tlhabi and Glen Biderman-Pam leading the season through 10 weeks of baking madness, twelve of South Africa's best amateur bakers have competed for the chance to be crowned winner, locking in a fantastic prize to grow their baking skills on an international scale.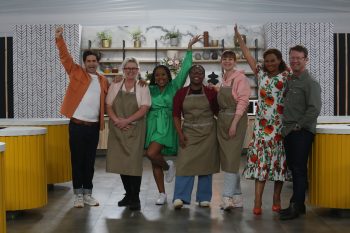 The dynamic judging duo, Siba Mtongana and Paul Hartmann, brought all the fun, laughter, and baking know-how to the tent.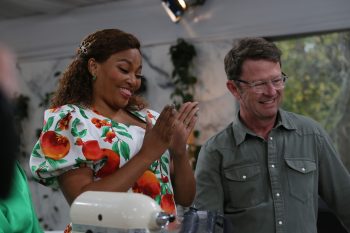 Now, anticipation rises as the grande finale of The Great South African Bake Off S4 fast approaches, with only 3 of the original twelve contestants left in the running – Chikomborero 'Chiko' Chiobvu, Mariza Mundow, Mia Steenekamp.
Meet the finalists
It boils down to the remaining three contestants left standing – let's learn a little more about the top contenders before a winner is crowned on the next episode of The Great South African Bake Off…
Chikomborero 'Chiko' Chiobvu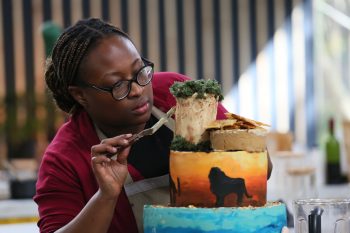 Chikomborero is an Investment and research Analyst from Pretoria.  When she's not baking or taking the corporate world by storm, she enjoys visiting farmers markets, playing golf, reading, crocheting, hiking, tennis, and bake blogging. Chiko's favourite bakes are cakes and bread, but finds the art of biscuit-making on the challenging side.
On being in the top 3, Chiko says:
"I am absolutely thrilled to be here. I would be lying if I said I knew this would happen. This has been such a happy surprise but also a reminder to embrace my ability and the fact that I am a good baker!"
Chiko's most difficult challenge on the series so far has been baklava. She says:
"The most difficult challenge was baklava. Ensuring that the pastry was super thin was a mission, but I got it done! unfortunately, the finish let me down a little as I lost a few of my baklava pieces."
Chiko's game plan for the final is to be herself and bring her best. She says:
"Being myself and bringing in the flavours! That is one thing I have always held so close to my heart. Ensuring that the bakes taste good! I also hope to bring in some perfection with the showstopper. That one is the biggest hurdle for me."
Mariza Mundow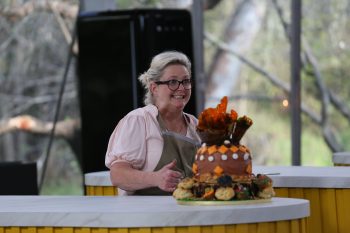 Mariza is a homemaker from Cape Town. Apart from baking up dreams, Mariza makes and sells chilli sauce, and enjoys oil painting, fishing, scuba diving, and travelling. Her favourite bakes to get stuck into are bread, cakes, tarts, cheesecakes, pies, and puff pastry, but she would rather lay off macarons – they're a challenge.
On being in the final 3, Mariza said:
"I feel so excited and nervous to be selected as a finalist, it's a major milestone for me"
Mariza's most difficult challenge has been the technical bakes.
"My most difficult challenges have been the technical bakes as I was so nervous and the petit fours were very tricky to ice and at that point of the competition everything was so intense."
Her plan is also to do her best with whatever brief is thrown her way. When asked about her strategy, Mariza said:
"Firstly to do my ultimate best and deliver as well as I possibly can keeping within the brief as it is set out."
Mia Steenekamp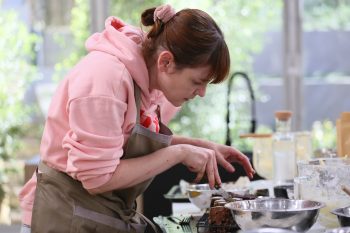 Mia is an Experience Design Director in Johannesburg. When she isn't tapping into her creativity, she loves socialising with friends, and beating them at a board game.  She loves baking cakes and sourdough bread but finds pastries and tarts tricky disciplines to master.
On making it to the finals, Mia says:
"I feel elated being selected as a finalist. There have been many ups and downs, many mistakes but also successes. I have worked harder than I could ever imagine, and had to overcome so many challenges, and I am so grateful and proud to be here."
Mia's most difficult challenge has been meeting time constraints.
"Time constraints were the most difficult challenge – it was my downfall in many challenges, such as the cake scape, bread loaf and baklava! But in terms of specific bakes, the bavarian gateaux and the entremet were some of the most technically challenging – all the parts had to be perfect and if one part failed, all the rest suffered."
Mia says her game plan for the final is to play on her strengths, with a dash of 'unconventional.'
" [I'm going to] lean into my strengths, and the positive feedback I have received, by being a bit unconventional, focusing on creativity, and above all having fun."
The next episode of The Great South African Bake Off  will air on Wednesday 11th October 2023 at 8 pm, on DStv Channel 174. The series is also available to catch-up on DStv catch-up and BBC Lifestyle, DStv Channel 174.
ALSO SEE:
S4 of The Great South African Bake Off is just around the corner!
Feature Image: Supplied